Increasing accessibility in Concordia's teaching, learning, research and working environments
Highlights of some of the work recently completed and currently underway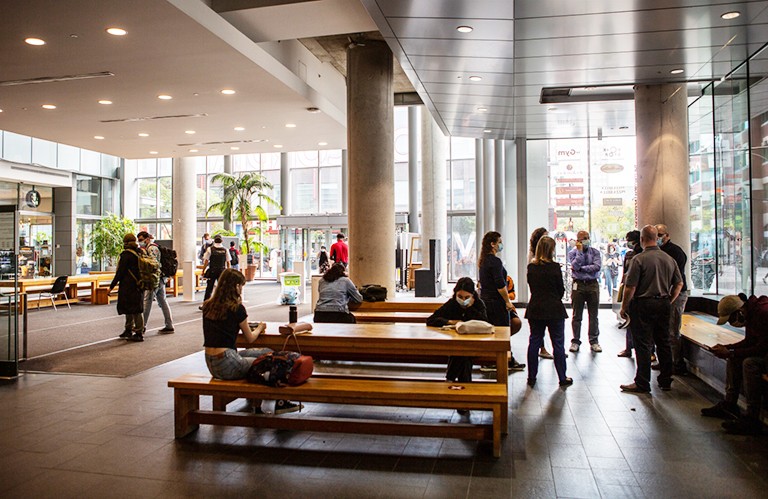 Dear Concordians,
A point of pride for Concordia is striving continually for a person-centred approach to inclusivity, which aims to ensure that all students, faculty and staff can fully participate in university life through expanding accessibility for people with disabilities.
Creating meaningful change on campus requires a culture of openness and closely listening to diverse community voices. We recognize that our check-ins and consultations empower us to re-think, re-imagine and re-emerge as an even better university.
To continue moving forward in the right direction, we recently undertook a series of university consultations, policy reviews and improvements to the university's digital and physical spaces to create more inclusive teaching, learning, research and work environments for people with disabilities. Highlights of some of the work recently completed and currently underway can be found below.
Completion of the accessibility policy review
I am pleased to share that the Accessibility Policy Advisory Group recently completed work on an updated university-wide accessibility policy.
The group's mandate included consulting with the community to review and make recommendations to update the Policy on Accessibility for Students with Disabilities (PRVPA-14) with the goal of outlining procedures, resources and options available to all university members with disabilities (students, faculty and staff) in the same policy.
The newly revised policy, which will be published shortly, includes important new updates and procedures that address and expand accessibility and accommodations for students, faculty and staff. The revised policy also underlines the importance of considering the impact of intersectionality for people with disabilities.
The policy is under the purview of the Office of the Provost and with the support of the Equity Office, Concordia will continue to support and advance accessibility university wide. This includes rolling out a series of best practice workshops and working directly with individual departments and units to support positive change.
Making teaching and learning more accessible
With a specific focus on the educational experience, this summer, Sandra Gabriele, vice-provost of Innovation in Teaching & Learning and chair of the Teaching and Learning Accessibility Advisory Committee (TLAAC), invited Concordia students and faculty to participate in surveys on their university experiences with accessibility. The committee includes students and faculty with disabilities working alongside the Centre for Teaching and Learning (CTL) and the Access Centre for Students with Disabilities.
With its mandate to further improve accessibility in teaching and learning, the committee will share its recommendations with the Concordia community later this fall.
Rollout of a pilot project on accessible teaching
This past summer, the CTL invited students and faculty to take part in a pilot project to help make their Moodle pages more accessible.
Following training they received as accessibility change agents, students worked with faculty to develop a variety of best practices in accessible teaching.
These practices include performing accessibility audits of Moodle courses and of commonly used teaching tools such as Adobe Portable Document Format (PDF), Microsoft PowerPoint and Word documents. The results of the pilot will inform both the recommendations that TLAAC will release later this fall and the work of the CTL in supporting our faculty to make their course sites and teaching more accessible.
Identifying, assessing and removing physical barriers to accessibility and inclusivity
Starting in 2016, Concordia undertook a series of audits to determine how it could render 14 of its main buildings more accessible for people with disabilities by identifying, assessing, and removing barriers that can limit access to our campuses.
Facilities Management completed accessibility upgrades as part of the major renovation projects to the following:
Webster Library in the J.W. McConnell Building (LB 2 to 5),
the Department of Education in the Faubourg Ste-Catherine Building (FG 1, 5, 6),
the entire first basement level the Faubourg Tower (FB SS1), and
the entire 6th floor of the Henry F. Hall Building (H-6).
Ongoing work at the university addresses deficiencies, particularly in washrooms, entrances and vertical transportation in buildings on the Sir George Williams Campus and Loyola Campus.
Compliance with Web Content Accessibility Guidelines
The Concordia University website is developed and maintained in adherence with Web Content Accessibility Guidelines (WCAG) 2.0 AA standards. The university is committed to making its site accessible to all internet users so that they can navigate and access information on the Concordia website regardless of disability, device or technical constraint.
WCAG standards include ensuring that documents shared on any digital platform are created with accessibility in mind. This means creating accessible PDF and Word documents with captions for graphics, images and photos, as well as producing videos with captioning that can be read and accessed by assistive technologies such as screen readers for people with disabilities.
These guidelines are continually updated by the World Wide Web Consortium (W3C), an international community that works together to develop web standards.
Learn more by taking part in university events and activities
As part of the work underway to further improve accessibility at Concordia for people with disabilities, the Office of the Provost and the Equity Office will host a series of activities and events this fall and winter.
This series is intended to keep you updated, answer your questions, and hear your thoughts on the work that we're undertaking to ensure that all students, faculty and staff can more fully participate in the Concordia experience. Details will be communicated very shortly.
Your input will help create a stronger, more diverse and accessible university
Working towards our goal of universal accessibility requires everyone's engagement, whether you are a person with disabilities or not.
I encourage you to get involved in our present and future initiatives by visiting the Equity Office website to find out how you can increase your awareness and understanding of accessibility and contribute to the conversation.
Thank you for your input, individual interest and team efforts in helping to make teaching, learning, research and working at Concordia an even more inclusive experience.

Graham Carr
President and Vice-Chancellor
---