Biology grad earns a Clarendon Scholarship to attend Oxford
Claire Staton reflects on her journey to academic success at Concordia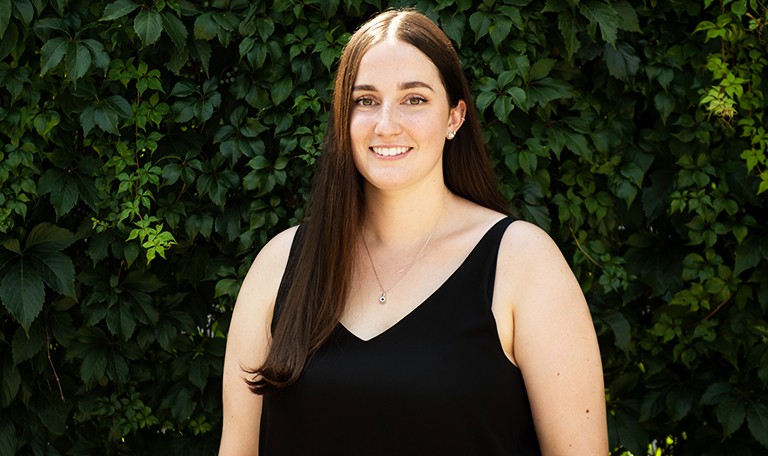 Claire Staton: "Surround yourself with people that inspire, support and challenge you." | Photo by Allison Staton.
As she packs in preparation for her move to the in the United Kingdom and the University of Oxford in September, Claire Staton (BSc 21) thinks back to her rewarding time at Concordia.
"I've had a lot of influences at Concordia that have been fundamental to my growth to be able to get into Oxford," says Staton, who earned a BSc in honours cell and molecular biology and was in the Co-op program.
"I was always very curious about what was around me and wanted to understand how our bodies worked the way that they do."
She excelled enough to earn a Clarendon scholarship, an extremely competitive award offered to 130 academically outstanding students to assist them through their studies at Oxford. The scholarship covers the student's entire tuition and provides a yearly stipend for living expenses.
"I'm excited because this is an international scholarship, meaning there aren't any quotas for programs or countries. It's people from all over the world doing completely different programs, so it's a rich and diverse community of people that are so passionate about what they're studying," says Staton.
"This scholarship is a huge confidence booster. The fact that it offers financial stability means I can put all my energy into this research that I'm so passionate about — it's a huge honour and I'm very excited."
Overcoming obstacles
As a student registered with the Access Centre for Students with Disabilities (ACSD), Staton says she used to struggle at school.
"Most of my family is actually from England, so I've always known about Oxford and have been interested in studying there, but I never thought that I would be good enough to get in," she says.
"After I got diagnosed and learned that I learned differently than other students, I started to fall back in love with school and learning and I thought maybe I had a chance."
The access centre aims at raising awareness and supporting and providing resources for Concordia students with disabilities.
"They work very hard to make academia accessible to everyone, and I think it's important to acknowledge that because I would have struggled without it," Staton says.
"I want to challenge assumptions and prove that people with disabilities can be and are successful."
Internships and on-campus involvement
One of Staton's most memorable Concordia experiences was working at the Student Success Centre, where she was a strategic leader for the Strategic Learning program for two years and a supervisor during her final year.
"It was the best job I've ever had because you get to share all of the special tricks that helped you do so well in the classes you enjoyed the most," she says.
The centre provides students with various tools they need to succeed — from time management and study strategies to building networks and taking studies one step further.
"It's a safe space for students to learn, practice their courses and ask any questions they may have," says Staton.
As part of her Co-op program, offered through the Institute for Co-operative Education, Staton interned for a year at Agilent Technologies, a biotechnology company that specializes in instrumentation.
Later, she completed a Natural Sciences and Engineering Research Council of Canada research internship with Christopher Brett, Concordia professor of biology, focusing on exosome biology.
"I learned so much and I got to discuss science all the time with people who are equally passionate about it, and I realized that this is exactly what I wanted to do," Staton says.
"After that, I thought more seriously about going to Oxford, and I found a lab that was doing the same work I was incredibly interested in — exosome cancer biology. It was like this perfect storm — this school that I had always dreamt of and a lab that was doing research that I was interested in," she adds.
Staton says she appreciates the opportunities the university offered her. "Concordia gave me everything I needed to be able to succeed. The ACSD was truly instrumental in making me feel comfortable at the school."
Her parting words of advice for current Concordia students?
"Surround yourself with people that inspire, support and challenge you," she says. "Advocate for yourself, market your own worth and skills, because that is the best way to get the most out of the opportunities that you have in university. It's just going after the things you want."

Learn more about Concordia's Department of Biology, Access Centre for Students with Disabilities, Student Success Centre and Institute for Co-operative Education.
---