Student Services holds the Concordia Community Challenge to help a large staff get to know each other
The initiative encourages colleagues across 5 units to participate in wellness, university pride and engagement activities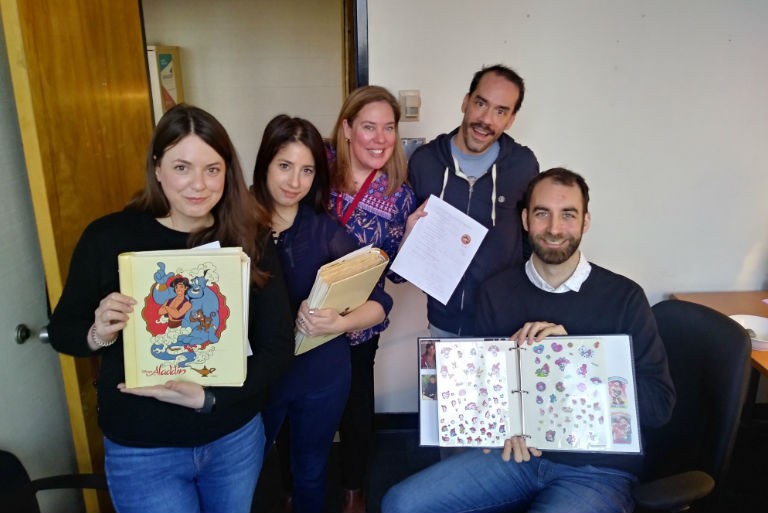 And Boom Goes the DOS was the winning team of the inaugural C3 Cup.
Concordia's Student Services sector took a creative approach to helping colleagues get to know each other with its first-ever Concordia Community Challenge.
Dubbed C3 for short, the initiative ran from February 3 to April 3 and encouraged staff to team up in groups of four or five. They participated in activities that contributed to their health and well-being, fostered Concordia pride and engaged with the broader university community.
Ten teams and 48 staff members participated in the challenge, representing almost one-third of the sector.
Student Services encompasses five units: Campus Wellness and Support Services, the Student Success Centre, the Dean of Students Office, Recreation and Athletics, and Residence Life, spaced out across the university's two campuses. Getting to know colleagues within the department can be a challenge, says Nadia Hardy, interim deputy provost and vice-provost of faculty development and inclusion.
"We had a goal this year to help all of our staff work better together," she says. "We're a really big sector and there's obviously a lot of people that work very closely together, but there's also a lot of people that don't interact much on a daily basis."
To help bridge that gap, the challenge gave additional points to teams that comprised staff members from different units. It also rewarded teams that participated in the same activity together if they submitted photographic proof.
According to Sophie Mailloux, a project coordinator in Student Services, Special Projects, who tracked team scores during C3, the incentives worked better than organizers even imagined.
"A lot of teams went further than we expected, which was a bonus we didn't anticipate. I had said to people, 'If you're looking for a team, let me know,' and many did," she says. "People who I matched up got to know each other because of this competition."
'It brought us together and was a great support'
The winning team, made up of Sabrina Catalogna, Mark Underwood, David Baker, Katie Broad and Paige Hilderman from the Dean of Students Office, succeeded by participating in many of their activities as a team. They went to one of Concordia's Zen Dens together and hosted get-to-know-your-team-members events where each person would talk about themselves and a few items they have on their desk.
When the campus shut down in March due to the COVID-19 crisis, the team decided to continue with those sessions — talking about more personal items that were in their homes — and had regular check-ins over their morning coffee.
"Though we somewhat know our colleagues, it's nicer to get to know them a bit more personally," Catalogna says. "It brought us together and was a great support for us, especially when campus was closed. That gave us something to look forward to. I'm really proud of my team."
Mailloux adds that the challenge has even fostered some fruitful collaboration between colleagues. On one team, a member of the Concordia University Student Parents Centre met a colleague who runs summer programs in Recreation and Athletics.
"By being matched on this team, they came up with the idea where some summer program spots could be saved for the children of student parents," she says.
The challenge also had another goal, according to Laura Mitchell, interim executive director of Student Services.
"The winter term can be long and tough with the weather, so we wanted to have something fun that emphasizes teamwork, health and wellness, as well as Concordia engagement and pride."
She says the department was pleased with the results of the initiative. "It really did encourage people to get to know each other and to interact."

Find out more about Concordia's Student Services sector.
---