10 great wellness resources for you during grad school
From Zen Dens to counselling services — Concordia covers all the bases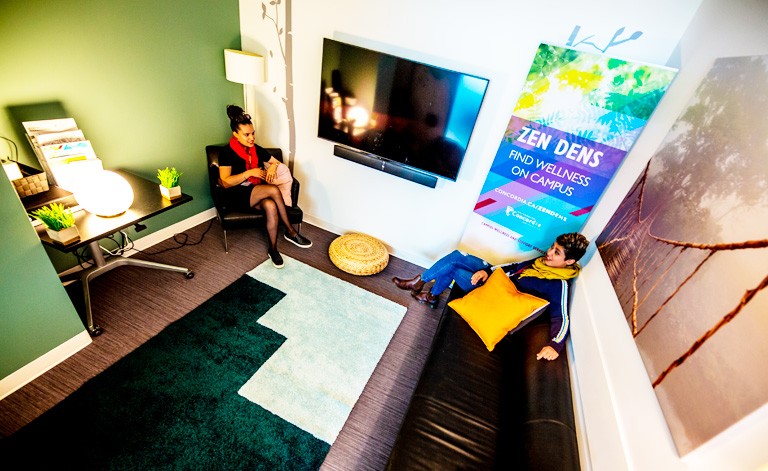 Healthy students are successful students, and that's why Concordia has developed a variety of resources designed to help you thrive personally and academically.
Graduate studies in particular are a weighty undertaking and offer unique work-life challenges that can influence your overall well-being.
The university offers support tailored to graduate students to help maintain your mental fitness while you pursue your academic goals.
Resources exclusive to graduate students
GradProSkills
GradProSkills is an exclusive source of a variety of useful — and free — workshops, including sessions on wellness, health and life balance tailored to fit those studying at the master's and PhD levels. Wellness workshops include everything from yoga to tackling burnout and imposter syndrome. Too busy? The GradProBlog and newsletter also share tips on managing all aspects of grad school.
Graduate Students' Association
The Concordia Graduate Students' Association (GSA) is run by experienced graduate students and can offer guidance on a number of academic matters, including advocacy and support for international students. The GSA also hosts social gatherings open to grad students from all faculties and is a tremendous resource for those at the beginning of their graduate journey.
The GSA also offers Empower Me, a mental health and wellness service that allows students to connect with qualified counsellors, consultants and life coaches for a variety of issues. Sessions are delivered in person or by telephone, video-counselling or e-counselling. Services are available 24 hours a day, seven days a week.
Empower Me is available to Concordia graduate students enrolled in the Concordia Student Health Plan as well as international students who have opted into the Concordia Student Dental Plan.
Wellness resources available to all students
On Tuesday, January 28 Concordia is hosting the annual "Stressed?? You can manage, we can help" Mental Health Fair in the EV Atrium from 10 a.m. to 3 p.m. It showcases the many services and groups available to students to help them meet financial, academic and personal challenges.
You're not alone – Meet professionals and peers here to support your well-being.
Get informed – Learn about the resources available throughout your Concordia journey, and get practical techniques to manage stress.
Take a break – Pet a therapy dog, get creative with Art Hives and meditative colouring, and grab some free snacks!
Follow CU Student Experience on Facebook and Instagram for updates from your Concordia student services!
For the rest of the year, Concordia's Campus Wellness and Support Services meet a variety of needs. Mental health resources are offered through Concordia's Health Services, where medical staff can provide referrals required for appointments with psychiatrists, and Counselling and Psychological Services can connect you with psychologists, psychotherapists and counsellors. No referral required!
Access Centre for Students with Disabilities
The Access Centre for Students with Disabilities supports students with a variety of disability conditions including temporary disabilities arising from illness or injury. Students can register with the Access Centre and receive academic accommodations and support, like coaching, tutoring and individualized learning help.
Zen Dens
With four locations across Concordia's two campuses, Zen Dens provide a calm and nurturing space to take a moment to breathe. Zen Dens also offer scheduled wellness sessions including yoga, therapy dogs, art hives, tea breaks and more.
Pop-up information tables
Learn about healthy eating, sleep, quitting smoking, stress management, mental health and more at these pop-up Healthy YOU at CU sessions that take place on both campuses. Upcoming dates include January 21 and 29 from 10 a.m. to 3 p.m.
Multi-faith and Spirituality Centre
The Multi-faith and Spirituality Centre provides a home for all those wishing to celebrate the human spirit in the widest sense of the word, through programs, events and a quiet space for reflection.
Dean of Students Office
The Dean of Students Office allows students to enhance their Concordia experience by engaging in student life outside the classroom.
Student Advocacy Office
The Student Advocacy Office supports students facing charges under the Academic Code of Conduct or the Code of Rights and Responsibilities.
Other resources
In crisis? These hotline resources could help.
Don't forget to check out the "Stressed?? You can manage, we can help" Mental Health Fair on January 28 in the EV Atrium.
Find out more about Concordia's School of Graduate Studies.
---