The Loyola Campus Working Group seeks input on how to build community and improve services
'It's about ensuring everyone knows that Loyola's an important part of the university'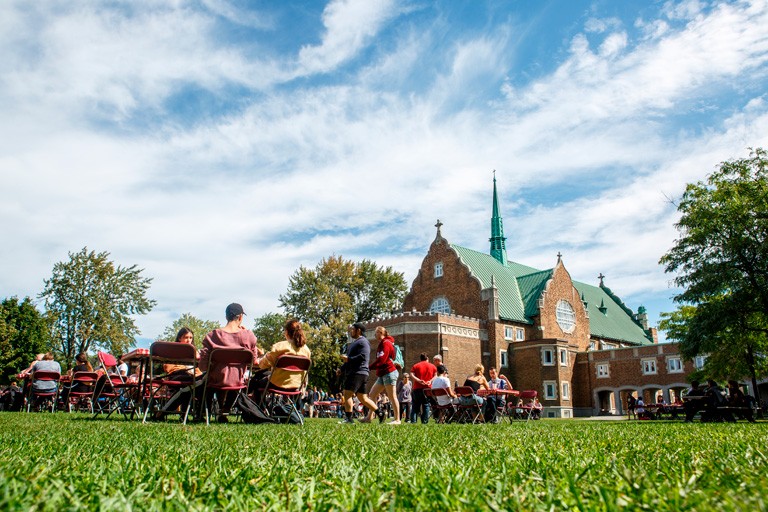 A team of students, staff and faculty is looking for ways to enhance services on Concordia's Loyola Campus and foster a greater sense of community.
The Loyola Campus Working Group is holding five consultation events between today and late November.
"We want to make sure members of the Loyola Campus are feeling a part of the university," says Lisa Ostiguy, the working group chair and special advisor to the provost on campus life.
"It's about ensuring our whole community knows that Loyola's an important part of the university."
The Loyola Working Group includes students, staff and faculty who study and work on the campus. In winter 2019, members of the working group visited all the Loyola buildings and spoke with stakeholders across the campus to identify needs and priorities.
Ostiguy reports that concerns related to five major themes emerged: transportation, food, facilities, communication at Loyola and between the two campuses, and a desire to create a greater sense of community at Loyola and within the university.
'Everyone's welcome'
Students, staff and faculty are invited to the five discussions that will address the following themes:
Ostiguy says she is hoping to engage members of the community to identify needs and priorities at Loyola.
"It's an open conversation and everyone is welcome to participate."
A busy campus
The Loyola Campus, located in the heart of the Notre-Dame-de-Grâce neighbourhood, was the site of Loyola College until it merged with Sir George Williams University to become Concordia on August 24, 1974.
Loyola houses several science departments within the Faculty of Arts and Science, as well as the Science College, the PERFORM Centre, which focuses on healthy living research, the state-of-the-art Centre for Structural and Functional Genomics and the soon-to-be-launched Applied Science Hub.
The departments of applied human sciences, communication studies and journalism, psychology, the Loyola College for Diversity and Sustainability, the Vanier Library, the Oscar Peterson Concert Hall and student residences are also located on the campus.
As the site of the athletics complex, Loyola is home to the Concordia Stingers varsity and club teams, children's sports camps throughout the year and a number of recreation and athletics facilities.
"The programs at Loyola bring a lot of diversity to campus. There are a lot of international students in science, and communications and journalism and applied human sciences draw a different kind of student to Concordia," Ostiguy says. "The campus has an interesting dynamic."
Ostiguy cites the property and history among the campus's assets. "Loyola has charm in the fact that it has old buildings and a lot of green space," she says.
"It's very different from downtown as it's located in a residential section of Montreal. It's a quieter campus and there's a lot of space to meet outside."

Read more about the Loyola Campus Working Group and its goals.
---