'I want to encourage people to become sustainability leaders'
Meet Annelies Coessens, Concordia's Instagram curator for April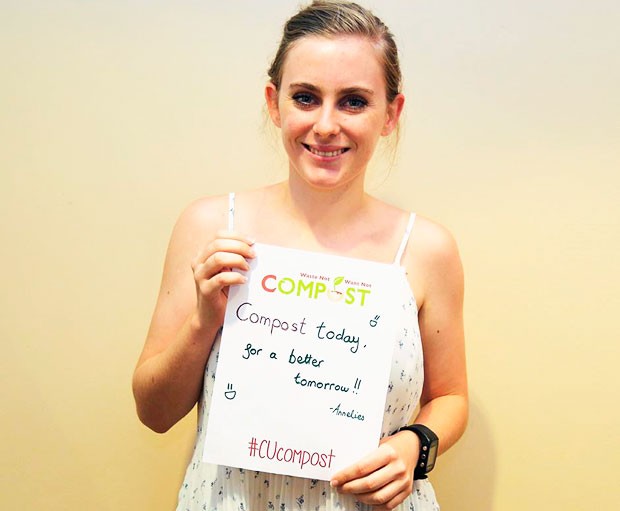 As a passionate volunteer for Concordia's Waste Not, Want Not campaign, Annelies Coessens wants to demystify campus composting for students, faculty and staff.
"There is so much work that goes into creating and maintaining this campaign," says Coessens, #CUseenby Instagram curator for the month of April. "I'd like to get people involved and aware about what is happening at Concordia."
Waste Not, Want Not launched in 2016. Since then, the number of public compost bins across campus has doubled and cafeterias have switched from garbage to compost waste disposal. The campaign also set up new composting kitchenettes and is largely responsible for increasing compost at events on campus.
Enrolled in Political Science and Women's Studies, Coessens wants her photos to showcase Concordia's commitment to sustainability and composting initiatives across the university.
Over the past two years, members of the community have been invited to capture their vision of the university and share it with Concordia's Instagram followers, using the hashtag #CUseenby.

'Share what inspires you'
Why did you want to be Concordia's Instagram curator?
I want to highlight Waste Not Want Not at Concordia and to use this opportunity to showcase sustainability and composting initiatives at the university.
I'd also like to encourage Concordia community members to become sustainability leaders and to participate in our green initiatives.
What are three or four of your favourite Instagram accounts?

What tips do you have for Concordia students who are looking to make their Instagram accounts better, or just take great photos?
Share pictures and stories that inspire you and demonstrate what you believe in. If you do that, not only will you discover your interests, passions, dreams and goals, but you will find people that share similar values.

Follow Annelies Coessens's journey via the #CUseenby hashtag.
And, if you're interested in becoming a Concordia Instagram curator, tag a photo with #CUinstagram, send it by direct message from the app or email a link to your photo to socialmedia@concordia.ca. If we like what we see, we'll be in touch!
---