'Don't trap yourself in a photo aesthetic for likes or follows'
Meet Sarran Hamilton, Concordia's Instagram curator for the month of November

"Concordia is a school that goes beyond educating its students. It truly cares for them and puts so many fantastic services at their disposal," says Sarran Hamilton.
The undergraduate student is pursuing a major in child studies, with a specialization in psychology in the Faculty of Arts and Science. She is also Concordia's Instagram curator for the month of November.
Launched in 2016, #CUseenby invites a Concordian to capture their vision of Montreal's next-generation university and share it with followers of the Concordia University Instagram account.
Hamilton plans to show her appreciation for the university through images that she hopes will connect with her peers. Now in her second year, she wants to showcase some of the spots she really enjoyed discovering as a first-year student.
Hamilton says she loves the potential for creativity that Instagram allows behind every post.
Follow her journey via the #CUseenby hashtag.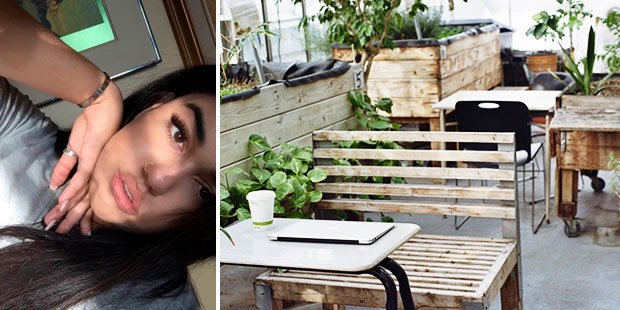 'Recognize when a great picture moment is in front of you'

Why did you want to be Concordia's Instagram curator?
Sarran Hamilton: Put simply, I really enjoy Instagram! It is a great platform for visually expressing yourself and it is very versatile — you can run anything from a business page to a meme-based profile. When I heard about the opportunity to curate Concordia's account, I jumped at the chance.
What do you hope to do with the Concordia Instagram account?
SH: Like the hashtag suggests, I plan to show Concordia through my eyes and how I experience the school. I love Concordia, and I hope that my appreciation for it will be felt through my photos and will resonate with students. I also plan to show parts of the school that I wish I had known about sooner in my degree.
What are three or four of your favourite Instagram accounts?
I like accounts that are well put together, but most importantly, ones that are inspiring. My favourites are:
@natgeo: Most of their posts are very informative, but all their pictures are taken by amazingly talented photographers. What else would you expect from National Geographic? A must follow!
@byseanbrown: He is a very talented local artist/photographer/designer. Every one of his posts seem well thought out and they exude a sense of professionalism and creative skill.
@krisshaddad: She is one of my best friends but also takes phenomenal film pictures! In such a short amount of time, she has really mastered the art of capturing a fleeting moment and made her profile come to life and tell a story.

What tips do you have for Concordia students who are looking to make their Instagram accounts better, or just take great photos?
1. It's your Instagram. This might seem obvious, but only you can have a vision for it and know what direction you want it to go. Don't try to copy others or trap yourself into a certain aesthetic for likes or follows. Do it for you and you'll find the experience much more satisfying.
2. Visualization is key. You don't need an amazing camera to take great photos, you just need to be able to visualize the picture you are trying to achieve. It's also important to recognize when a great picture moment is in front of you! This is easier said than done, but with practice, anything is possible.
3. Brightness. This tip is a little biased toward iPhone users. When taking a picture on the camera app, select a focal point for the phone and reduce the brightness by moving the little sun along its line axis. This is a game changer. Reducing brightness in photos makes the colours more true-toned, with more definition and an overall better quality. 

Interested in becoming a Concordia Instagram curator? Have a photo on your Instagram feed that represents you and your Concordia? Tag it with #CUinstagram, send it by direct message from the Instagram app or email a link to your photo to socialmedia@concordia.ca. If we like what we see, we'll be in touch!
---