'We are all here to grow as individuals — I hope to capture that'
#CUseenby celebrates 60 years of Concordia's Garnet Key Society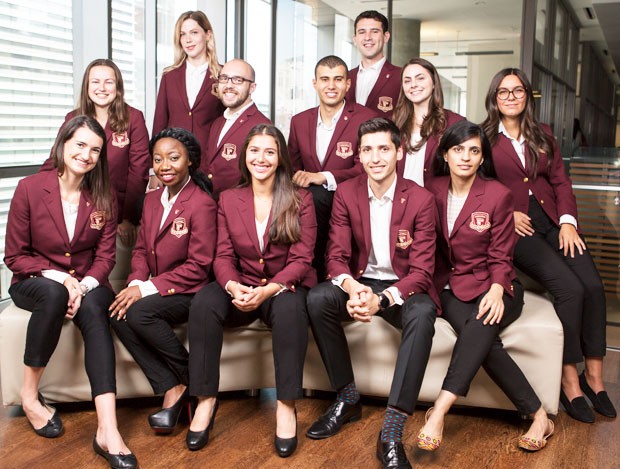 The Garnet Key Society is a group of diverse and driven students who act as official honorary ambassadors of Concordia.
The society is sponsored by the university's president, Alan Shepard.
To help celebrate their 60th year, the Garnet Keys have taken on the role of #CUseenby Instagram curators for the month of October. Followers of @concordiauniversity can enjoy the spirit of the school through photos of our campuses, people, programs, activities and experiences all month.
Industrial engineering student Omar Hisham Samir Megahed is Garnet Key's current president. The society's vice-president is psychology student Sophie Lemieux. Its marketing and communications officer, Lucrezia Sciascia, studies at the John Molson School of Business. Together with six other Garnet Keys, they will showcase their best shots in and around Concordia.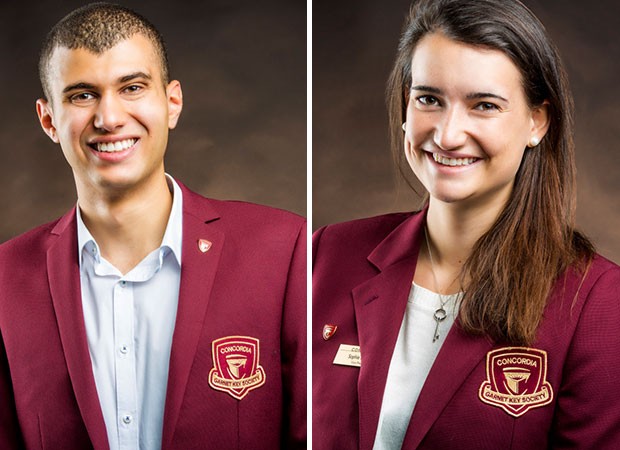 From left: Omar Hisham Samir Megahed, Garnet Key president, and Sophie Lemieux, vice-president.

'I want to share and communicate our university's diversity'
Why did you want to be Concordia's Instagram curators?
Omar Hisham Samir Megahed: I want to represent the university in a positive way and show students the various qualities Concordia has to offer.
Sophie Lemieux: I believe sharing my passions with my friends and followers is an important part of who I am and what I do. It's a great pleasure to share this passion with my school.
Lucrezia Sciascia: I wanted to become one of Concordia's Instagram curators to further share and communicate our university's diversity.
What do you hope to do with the Concordia Instagram account?
OHSM: I want to capture interesting moments at Concordia that may sometimes go unnoticed or be taken for granted.
SL: I want to show Concordia's community that it's cool to be nerdy and geeky. All I do is study and get involved with the university and I'm having the time of my life. I've never been happier and better surrounded than by my colleagues at the Garnet Key Society. Aiming to be successful is cool and should be more recognized.
LS: I hope to capture moments that other Concordia students can relate to. Despite coming from different faculties, we are all here to grow as individuals. I hope to capture that through the images I share.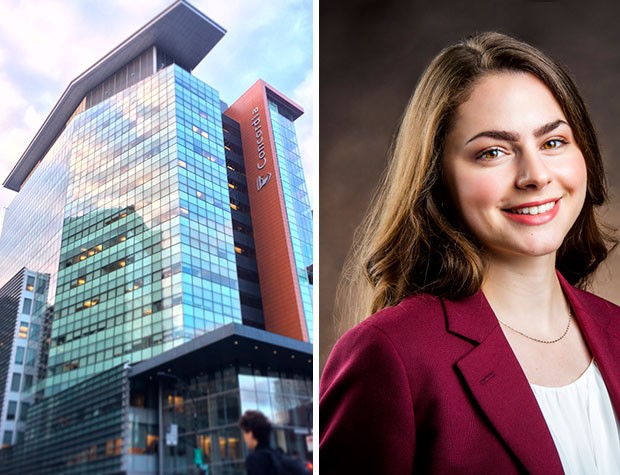 "Downtown views," a photo taken by Lucrezia Sciascia (right), marketing and communications for Garnet Key.
What tips do you have for Concordia students who are looking to make their Instagram accounts better, or just take great photos?
OHSM: Be natural and take a picture of the moment, rather than overthinking how to take a picture of the "right moment."
SL: Be yourself — don't force it! Take pictures of what you would like to see.
LS: Go to your camera settings and turn the grid option on. This will divide your screen into nine squares and allow you to take better symmetrical photos!
Finally, What are three of your favourite Instagram accounts?
OHSM:
SL:
LS:

Interested in becoming a Concordia Instagram curator? Have a photo on your Instagram feed that best represents you and your Concordia? Tag it with #CUinstagram, send it by direct message from the Instagram app or email a link to your photo to: socialmedia@concordia.ca. If we like what we see, we'll be in touch!
---