Kimberley Manning: 'Feminism is stronger and more vibrant than ever'
On International Women's Day, the principal of Concordia's Simone de Beauvoir Institute shares her vision for inclusive education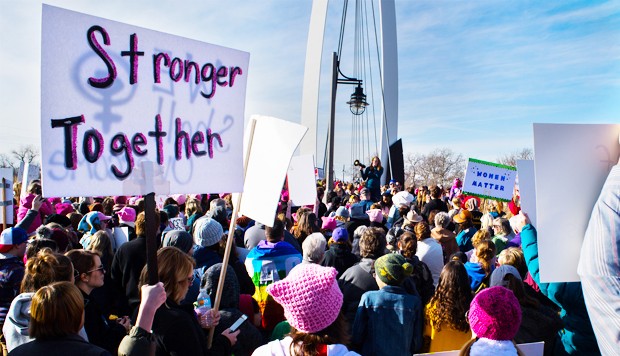 Kimberley Manning is the principal of the Simone de Beauvoir Institute and an associate professor of political science in Concordia's Faculty of Arts and Science.

On January 21, over a million people gathered in cities around the world to show support for the Women's March on Washington (WMW) — one of the largest days of protest in United States history. If we were ever living in a "post-feminist" moment, it is no longer.
Indeed, the WMW underscored what many of us active in academic and community feminist work have known for a few years: feminism is stronger and more vibrant now than it has ever been.
Younger feminists are joining their elders to address the seemingly intractable challenges of racism, sexism, Islamophobia, anti-Semitism, colonialism, transphobia and ableism. Together, they are recognizing that we need new thinking and tools to create more inclusive institutions and publics.
Since last summer, Critical Feminist Activism in Research (C-FAR) has been working toward just that.
C-FAR is a Concordia research project exploring the idea of a feminist university: what it is and how we make this idea realizable. With a startup grant from the Faculty of Arts and Science, our C-FAR team has been able to rapidly arrive at some preliminary answers.
I work alongside three Concordia graduate students: Meghan Gagliardi (geography), Annick Maugile Flavien (communication studies) and Finn Morgan (English). We concluded that a feminist university must be inclusive.
In other words, a university must not only take steps to address gender disparities, but also actively work to transform cultures of whiteness and other intersecting forms of oppression within the academy.

'Creating systemic change'
Based on numerous community consultations, including large-scale conferences and meetings, writing retreats and informal dinners, we identified key areas that could benefit from feminist, anti-racist engagement.
These include student mental health support, immigrant realities, family support, faculty hiring, faculty mentoring and the development of new training processes for faculty and staff.
These issues also matter to Concordia's administration, and I am looking forward to developing common strategies for creating systemic change.
In the meantime, C-FAR is also working on how social action learning initiatives can support institutional and social transformation from the bottom up.
To this end, our team has supported several new projects, including a half-day training by Raoul Fernandez for faculty and administration on critical diversity issues; a highly successful conference on inequities in the field of electroacoustics, organized by Joanne Mitrovic; and community work to promote pluralism, most recently through a well-attended Black History Month event in Outremont.
Other initiatives currently benefitting from C-Far support include:
A Simone de Beauvoir Summer Institute, organized by Geneviève Rail, being held May 14 to 19
The development of a social justice stream in the Workshops on Social Science Research series

A new, six-credit "Feminist University Seminar," which will enable 25 undergraduate students to undertake five social action research projects at Concordia and in the community

Find out more about Concordia's Critical Feminist Activism in Research project.
---