Cree ways of seeing and knowing
Indigenous drumming, friendship songs and myths enliven Joseph Naytowhow's Concordia lecture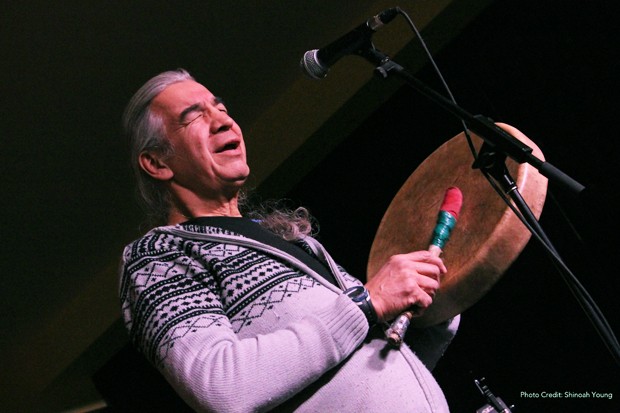 Joseph Naytowhow | Photo by Shinoah Young

After spending 13 years at the Prince Albert Indian Residential School in Saskatchewan, Joseph Naytowhow remembers feeling "assimilated, integrated, citified and preoccupied" by the age of 20.
"I was gutted out and I had to put those guts back in — physically, emotionally, spiritually and mentally. I've been doing that ever since," says the 63-year-old Plains/Woodland Cree singer-songwriter, storyteller and actor.
On Wednesday, November 2, Naytowhow delivered a lecture called "Cree Ways of Knowing: Indigenizing University Education" to a standing-room-only crowd at Concordia. Though "lecture" may not actually be the best word to describe it.
He told the story of his quest to reclaim his heritage using a mix of song, spoken word, myth and memoir. By taking that eclectic approach, and laying out his personal journey, Naytowhow illustrated how Cree ways of seeing and knowing (nehiyo itâpisinowin) differ from more conventional modes of learning.
"Joseph's talk showed us that Cree knowledge is grounded in movement, in journey, in reflection and in a more nomadic route to finding inner meaning," says the event's host, David Howes, anthropology professor in the Faculty of Arts and Science and director of the Centre for Interdisciplinary Studies in Society and Culture (CISSC).

'Drumming saved my life'
Naytowhow began the afternoon by performing a Hopi friendship song. Next, he told the story of how an elder-in-residence named Solomon Mosquito at the University of Regina helped him to find ways to return to his Cree culture. After meeting Mosquito, Naytowhow joined a drum group and began to learn traditional songs.
"Drumming saved my life," he says. "It was like my primal scream."
His healing journey also included 15 years as a Buddhist, regular visits to sweat lodges and years of therapy to process the childhood trauma he endured at the residential school run by the Church of England.
"I'm still working hard on forgiving the Anglican ministers and nuns for what they did to us."

'A voice animated by song'
Howes says his interest in Indigenous ways of knowing was amplified by Naytowhow's talk.
"It wasn't the usual discourse of a visiting lecturer," he adds. "Instead, his was a voice animated by song, drum, dreams — a multi-modal form of Cree epistemology."
CISSC co-sponsored Naytowhow's visit, along with Concordia's Centre for Sensory Studies; the Rural Policy Learning Commons theme team Transformations in Indigenous Communities, led by Mark Watson, associate professor in the Department of Sociology and Anthropology; and Jason Lewis, Concordia University Research Chair in Computational Media and the Indigenous Future Imaginary.
"Here at Concordia, it's a priority to Indigenize the university curriculum and we're very interested in enhancing intercultural relations and studying alternative ways of knowing," says Howes. "Joseph's visit furthers this exploration because he's an ambassador from the First Nations people."

Discover Concordia's Aboriginal Student Resource Centre and learn about the First Peoples Studies (BA) at Concordia.
---