'Our response to the Truth and Reconciliation Commission is a priority'
Meet Elizabeth Fast and Charmaine Lyn, Concordia's two new special advisors to the provost on Indigenous Directions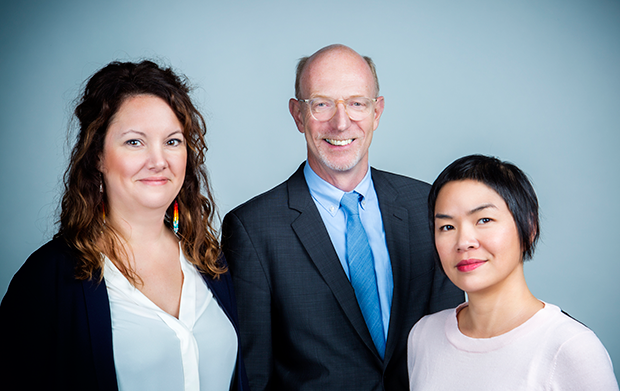 From left: Elizabeth Fast, Graham Carr and Charmaine Lyn.

This term, Elizabeth Fast and Charmaine Lyn are looking forward to learning a lot about the campus experiences of Indigenous students, faculty and staff — and that's only the beginning.
The two were just named special advisors to the provost on Indigenous Directions, with a mandate to lead Concordia's response to the Truth and Reconciliation Commission's (TRC) Calls to Action. Their three-year appointment runs until June 2019.
"Concordia is in an excellent position to take a leadership role," says Concordia's president Alan Shepard. "Beyond our academic reflex for collaborative learning, we have a large cohort of Indigenous students and scholars — perhaps the largest in Quebec. It represents the diversity of communities in the province, as well as Indigenous people from across North America."
Graham Carr, provost and vice-president of Academic Affairs, agrees.
"Our response to the TRC is a priority," he says. "One way to demonstrate this is to put people in place who understand the challenges and opportunities of this important mandate, are committed to fostering meaningful change through collaboration, and then to give them the support to make a positive difference."

Accessible and inclusive
Prior to their appointments, Fast and Lyn joined Carr on his first external visit as provost when the three attended the 2nd Annual Building Reconciliation Forum in Edmonton at the end of September.
Concordia's delegation joined representatives from 58 universities and colleges for two intensive days of listening and reflection.
At the forum, First Nations, Métis and Inuit leaders, residential school survivors and their families, Indigenous scholars and scholars dedicated to research that is meaningful to Indigenous people spoke about their experiences and work, particularly as it relates to the realities of the academy.
"We emerged from the forum even more motivated to work toward reconciliation," says Lyn, senior director of the Office of Community Engagement.
She is responsible for leading the mandate to cultivate and steward community-university partnerships and to support and promote community-engaged scholarship, research and learning at Concordia.
"As someone who identifies as a racialized, first-generation university attendee, it's important to me that we are accessible and inclusive. University changed my life and provided opportunities I wouldn't have had otherwise."

'It's important to have Indigenous leadership'
Lyn's co-special advisor, Elizabeth Fast — an assistant professor of Applied Human Sciences in the Faculty of Arts and Science — is Métis and Mennonite.
"This is a significant undertaking for the university, but also for me personally," says Fast. "And my ancestry is relevant. The provost's office recognizes that it's important to have Indigenous leadership in these initiatives."
The two special advisors will create a small but agile Truth and Reconciliation Leadership Group, as well as working groups to target specific topics, such as research and student support.
"The group will be primarily, if not entirely, comprised of people who are Indigenous," says Fast.
Soon, they are launching an online Indigenous hub on Concordia.ca, which will be their main communication portal.
Both Fast and Lyn feel it's crucial to start their endeavour by gaining a thorough understanding of the experiences of Indigenous Concordians, in order to create a more welcoming and nurturing environment.
"As a first step, we're issuing an open invitation to meet every Indigenous student, faculty member and staff member who wishes to meet with us," says Lyn.
"We want to hear from everyone. We have much to learn about ourselves as we interrogate, rebuild and deepen our relationships. We're interested in hearing from all members of the Concordia community. However, our first priority will be to hear from, and respond to, Indigenous students."
And, as Fast points out, "non-Indigenous learners can benefit from Indigenous pedagogy — including talking circles in the classrooms, bringing in community members and elders, valuing oral ways of learning and using fewer written evaluations."

Contact Concordia's special advisors to the provost on Indigenous Directions by emailing indigenous.directions@concordia.ca.
For more information, read the full report of the Truth and Reconciliation Commission of Canada.
---