Orange Shirt Day: 'A teachable moment'
On September 30, Concordians will join a movement to honour residential school survivors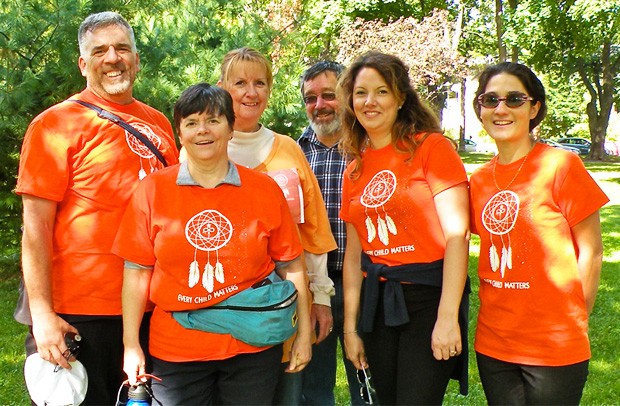 Six faculty members from the Department of Applied Human Sciences wore their orange shirts at the Concordia Shuffle on September 23.

Last year, the Truth and Reconciliation Commission of Canada (TRC) released its Final Report on Canada's residential schools
Hilary Rose is an associate professor in Applied Human Sciences (AHSC). Her department has recently started talking about how to incorporate the commission's findings and recommendations into the classroom.
Here, Rose discusses a new initiative to raise awareness of the dark chapter in Canada's history.
She was six years old, and like many young children, she was excited about starting school. Her name was Phyllis Webstad, and she was especially proud of the brand-new orange shirt she wore for her first day.
But the school was St. Joseph's Mission Indian Residential School in Williams Lake, British Columbia, and the year was 1973. Webstad was stripped of her new shirt, which she never saw again, and put in a uniform. Since then, the colour orange has always reminded her of being a residential school survivor.
Orange Shirt Day – Every Child Matters is observed on September 30, reflecting the time of year when — for over 100 years — aboriginal children were removed from their homes and their families and sent to residential schools. This year, Concordia students, faculty members and staff will be wearing orange T-shirts in recognition of residential school survivors.
As an associate professor in AHSC, wearing the orange shirt provides me with a teachable moment, an opportunity to share some of this history with my students. It also shows solidarity with residential school survivors, their children and their grandchildren. To me, it just seems like one small step toward reconciliation.
Shiann Wahéhshon Whitebean, Wolf Clan Kanien'kehá:ka of Kahnawà:ke, is president of Concordia's First Peoples Studies Member Association and head organizer of the Indigenous Student Council.
"I wear orange on this day for so many reasons, especially in memory of my great-grandmother Virginia who was a residential school survivor," she says. "And I do it to bring awareness to the multi-generational impacts that we have felt in my family, community and throughout many Onkwehón:we nations."

'In the spirit of healing'
The 2015 Final Report of the Truth and Reconciliation Commission of Canada (TRC) made a number of recommendations about post-secondary education, and the need to teach Canadians about our shameful history of residential schools.
As the Honourable Murray Sinclair, Manitoba senator, said at the report's release, "We have described for you a mountain. We have shown you a path to the top. We call upon you to do the climbing."
Faculty members in AHSC have recently started conversations about how to incorporate these findings and recommendations into the classroom. This year, their Research Brown Bag Series will feature guest speakers addressing indigenous knowledge, anti-racist curriculum and pedagogy and community-based research partnerships.
Students in the First Peoples Studies Program and the Indigenous Student Council, along with the staff of the Aboriginal Student Resource Centre and several faculty members are participating in Orange Shirt Day this year. Whitebean feels that many Concordians have been working collectively to promote awareness and respect of indigenous cultures.
"This is an important part of our history that we must not forget — as well as a celebration of our lives, cultures and identities," she says. "So many have been inspired by Phyllis's story, and it is clear that this is a movement that we can all support in the spirit of healing."

Support residential school survivors — wear an orange shirt on September 30.
To find out more about the Department of Applied Human Science's Research Brown Bag Series, contact Warren Linds: warren.linds@concordia.ca.
---