3 professors who make their classes 'come alive'
The 2014-15 President's Excellence in Teaching Awards celebrate outstanding faculty members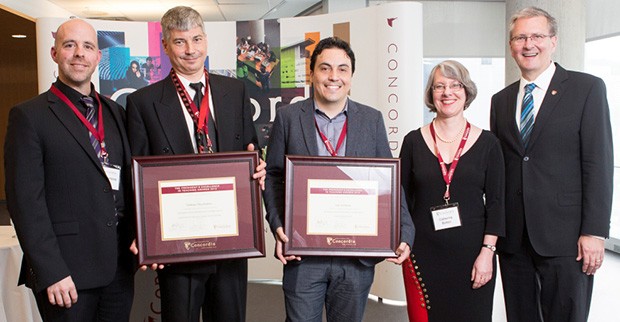 "We're honouring professors who inspire their students." From left: Benoit-Antoine Bacon, Ted (Tadeusz) Obuchowicz, Ivan Contreras, Catherine Bolton, and Alan Shepard. (Absent: Catherine MacKenzie)
"Each year this event provides us with an opportunity to thank our outstanding professors and celebrate teaching excellence at Concordia," says Alan Shepard who presented the 2014-2015 President's Excellence in Teaching Awards at a special celebration on June 2.
"We're honouring professors who inspire their students to achieve their full potential."
The 2014-15 winners of Concordia's highest award for teaching are: Ivan Contreras, assistant professor and a full-time faculty member of the Department of Mechanical and Industrial Engineering, in the Faculty of Engineering and Computer Science; Ted (Tadeusz) Obuchowicz, part-time faculty member of the Department of Electrical and Computer Engineering, Faculty of Engineering and Computer Science; and Catherine MacKenzie, professor and full-time faculty member in the Department of Art History, Faculty of Fine Arts.
Ivan Contreras: Award for Excellence in Teaching (New Faculty)
When Ivan Contreras' students go to see him at his office in the Department of Mechanical and Industrial Engineering, they're greeted warmly and with enthusiasm.
"He'll dedicate a whole afternoon to you! You can feel how much he enjoys helping us and how passionate he is about giving us direction," says PhD student Andrés Acevedo.
Since coming to Concordia in 2011, Contreras has been inspiring students at all levels, as well as catching the attention of his colleagues. "He's creative in the classroom, teaching with a combination of PowerPoint slides, chalk-and-talk problem solving and demonstrations of state-of-the-art engineering software," says Amir Asif, dean of the Faculty of Engineering and Computer Science.
Modestly brushing aside praise for his classroom skills, Contreras says he prefers to focus on his methodology. Basic math and physics, along with concepts and principles involved in solving problems, are his biggest concerns.
"I stress the fundamentals, as opposed to simply giving out recipes for solving engineering problems. Then I apply those fundamentals to a real situation," says Contreras, who attracts students from across the city for his Discrete Optimization course.
"We cannot provide an infinite number of recipes for every real-world problem students might encounter, so it's essential to learn the analytic methods while you're at school. Anything less doesn't serve our students well in the future, as technology evolves and creates new challenges in engineering."
Contreras' research areas include transportation, logistics and large-scale optimization. He has supervised seven MSc students and is currently supervising seven PhD students, as well as three MSc students.
"He goes beyond what's expected of him to facilitate the learning process," says PhD student Camilo Ortiz. "He uses everything he has learned in his research, in the field, to show us how real problems are solved. To me, that's an outstanding professor."
Ted (Tadeusz) Obuchowicz: Award for Excellence in Teaching
A part-time lecturer in the Department of Electrical and Computer Engineering and the Department of Mechanical and Industrial Engineering for the past 21 years, Ted Obuchowicz, already has two Faculty of Engineering Teaching Excellence Awards under his belt.
He started teaching at Concordia in 1994, before he had completed his master's degree in electrical engineering. Each year, he teaches two or three courses at night, while his days are occupied by his full-time job as Concordia's very-large-scale-integration (VLS) engineer and computer-aided design (CAD) specialist.
When asked, Obuchowicz can explain exactly how he keeps students interested: "Liberal use of props really helps to get the point across, especially when it's a long night class," he says.
Obuchowicz is frequently seen carting around the props that help him explain important concepts for computer organization. (Think big cardboard cubes with coloured numbers). He also built a model of the Tower of Hanoi math puzzle using a fallen tree at his cottage.
"It's not just for entertainment," says Obuchowicz, speaking in his signature deep voice. "There's a direct connection between seeing the moves being performed on a model in relation to the moves that are generated by the computer program. It really helps to reinforce the concept."
His interactive teaching style makes an impression on his students, whose 2014-15 evaluations of Obuchowicz frequently use words like "awesome" and "amazing." There is a consensus that his notes are excellent, as is his taste in music. Obuchowicz is a dedicated Rolling Stones fan who brings his music into class, on occasion, to make a point.
Catherine MacKenzie – Award for Excellence in Teaching
Catherine MacKenzie will never forget seeing one of her Art History students cry in front of a painting at The Museum of Modern Art in New York. Her student — "a big, strapping guy" – was on a bus trip to New York organized by MacKenzie.
"He was literally moved to tears. He was in front of a painting that he'd never seen in person," says MacKenzie, who has been a full-time faculty member at Concordia since 1978. "That experience stuck with me."
MacKenzie's devotion to finding new ways to enhance her students' ability to appreciate art earned her the Outstanding Contribution Award from the Concordia Council on Student Life last year.
Her colleagues in the Department of Art History agree, taking inspiration from her every day.
"Catherine's commitment to curriculum development is a hallmark of her teaching," says Alice Ming Wai Jim, who was a student of MacKenzie's and is now the graduate program director for the Department of Art History. "Catherine was teaching global and world art histories before these terms were popular. Her courses challenge Eurocentric narratives of art and confront issues of race and representation with unflinching rigour."
Look no further than MacKenzie's popular course, Nazi Art Looting and its Aftermath, to find her most devoted students.
"She encouraged us to seek sources that went beyond the library, so we contacted archives in Poland and Germany," says student Stephanie Hornstein. "She treated us like academics, so we were compelled to act like professionals."
That same class led to the proudest moment of MacKenzie's teaching career.
"It happened when two undergraduate students drove through the night to New York to attend a panel session on looted art," says MacKenzie.
"The VP of Sotheby's who is in charge of Holocaust-era looting was on the panel. Our students stood up and asked the hard questions — essentially, why wasn't Sotheby's making their database public? The students wouldn't accept any evasive non-answers. They kept pushing it. I was so proud!"
MacKenzie spent ten years in senior administration, followed by three years as Chair of the Mel Hoppenheim School of Cinema. She returned to the Department of Art History in 2003 and is currently supervising 4 MA students. The long-serving professor has been key in attracting young faculty members with a background in global art history.
---