We're live! Welcome to the new Student Information System
Training and support continues after Monday's successful launch
January 28, 2015
Source: University Communications Services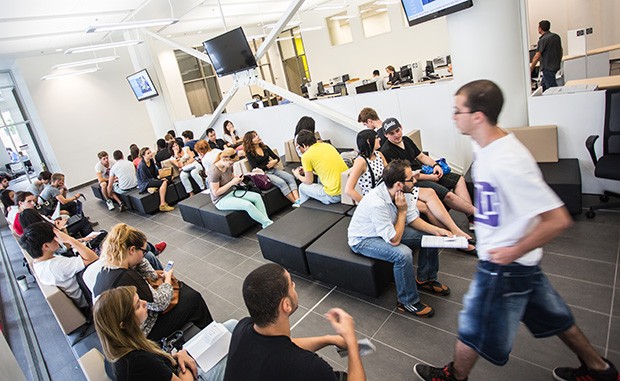 We're live! The much-anticipated launch of Concordia's new Student Information System (SIS) went forward as planned on Monday, January 26.
Last Thursday, January 22, the Birks Student Service Centre closed at 3:00 p.m. to prepare for the shutdown of the legacy system. This was the first step in starting the massive data conversion process, which continued all weekend.
By Sunday evening, the project team and leadership did a final check of conversion status, and gave the green light for "go live" of the new SIS.
"It's an exciting institution-wide transformation," says Bradley Tucker, associate vice-president of Registrarial Services and University Registrar. "The old system was unsustainable, and Concordia needed a solution that would provide stability for the coming decades.
"Any implementation of this size and scope presents challenges, and some glitches are to be expected. I appreciate the community's patience and understanding as we all adjust to the new environment. Some processes will take longer during this adjustment period."
A worthwhile adjustment
Staff are confident about the benefits the new system brings to their everyday work environment.
Lorraine Toscano, manager of Birks Student Service Centre, welcomes the change: "It's a big adjustment, but we have two Super Users onsite to help out."
Toscano is most excited about the students' self-service portal. "It's amazing for students because it answers so many of their questions and takes care of many day-to-day requests, like transcripts. Now we can devote more time to students' higher-level issues, and students will arrive here better prepared with more specific questions."
Marie-Claire Newman, manager of Government Reporting and Statistics in the Office of the Registrar, also embraces the new digital landscape.
"In the 14 years I've been at Concordia, we have transitioned through several different SIS interfaces, and I feel confident that we will learn to master this new, more sophisticated system" she says.
Phased implementation
Moving forward, additional new system features will continue to be rolled out in phases, following the timeline of tasks as they occur in the academic calendar.
The SIS governance structure oversees resources; it will analyze features delivered in the system that the team isn't currently implementing, but are timetabled for rollout. The governance structure will also oversee new features delivered in subsequent updates to the system as part of the Oracle package solution.
Super User support
Training and support are ongoing. For the next few, critical weeks, Super Users will be stationed in administrative areas and academic departments to provide support and answer questions as they arise.
Find out more about the support structure on the SIS Renewal Project Hub. A list identifying the Super Users per department can also be found there.
Patience and understanding from the Concordia community will be appreciated as staff continue to gain experience with the new system's wide range of functionality.

Faculty and staff can learn more about the new Student Information System in the SIS Renewal Project Hub on Cspace.

---