4 reasons to love your new self-service portal
In anticipation of its January 26 launch, here are a few key perks of Concordia's new Student Information System
January 8, 2015
Source: University Communications Services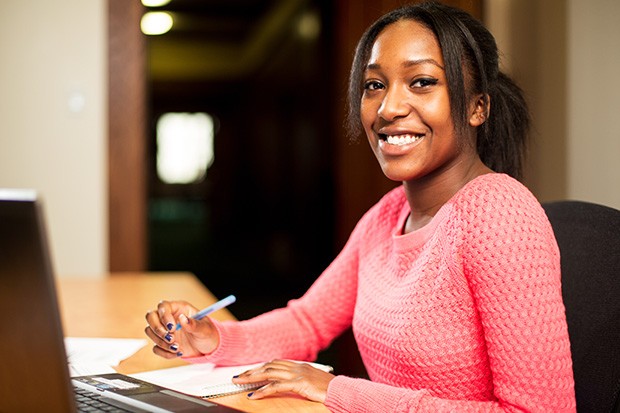 Student testers are helping to write how-to guides for the new SIS self-service portal, which will be accessed via MyConcordia.

Akeyla Liverpool, a third-year bachelor's student in Human Environment, is a fan of the new Student Information System (SIS). "It's super intuitive and easy to use," she says.
The SIS goes live at 12 p.m. on January 26, 2015 — Liverpool is one of the student testers who collaborated with the SIS team on navigation guides to help their peers transition into the system.
With the SIS, students will have access to improved online services with new features and benefits, including a self-service portal that will be accessed via MyConcordia.
"The landing page is great. It's a snapshot of everything you need to know, all in one place," says Exercise Science student Dara Brunette, another tester. "I particularly like the new advising module because it puts you in direct contact with a specific person. The weekly schedule is also impressive because it adjusts to reflect what's going on that week — like holidays. The old schedule was static."
Here are four highlights of your new self-service portal.
1. Easy access to new tools
The SIS is packed with great features, including new tools to make your life easier.
For example, there's a new advising module to enhance the academic advising process for staff and students. It replaces the previous "degree audit" tool, and offers students and advisors access to the same centralized data.
Need help? Phone assistance from your advisor or Concordia staff will be much more efficient, thanks to the new "Impersonate a Student" feature that allows them to see exactly what you can see on the screen of your self-service portal.
There will also be features that allow you to make online requests for things like letters of attestation and official transcripts, to save the trip to campus.
2. It's a unified, one-stop shop
The SIS provides a unified place — a one-stop digital shop — more than 40 self-service facilities are available. Some examples are: registering for courses, building a schedule, paying fees, managing accounts, tracking grades, using the advising module, accessing transcripts, applying to graduate and applying for financial aid and awards.
3. Waitlisting is here
The waitlist feature is a winner. Didn't make it into the class of your dreams? Just add yourself to an automated waitlist for any waitlist-enabled course that is full at the time of registration.
This will greatly improve the registration process — it's a "first come, first served" process for eligible students, while also respecting those with priority. If a spot becomes available, you will be automatically enrolled, and notified when you're accepted into the class.
Waitlisting will be available when the registration cycle for the 2015-16 academic year opens in March 2015.
4. Your new dashboard
The system is intuitive and easy to navigate, with a dashboard that organizes your access to information and functions.
It features links to:
Academics (My Class Schedule, Shopping Cart, My Planner)
Finances (My Account, View Financial Aid, Award Search)
Personal information (Contact Information, Quebec Residency Application, Code Permanent Form, Upload Document)
Admission (Apply for Admission, Registration Guides)
My Important Links (My Exam Schedule, Apply for Graduation)
As the SIS transition begins, here are a few points to keep in mind.
Get ready for shutdown: Thursday, January 22, 2015 at 5 p.m.
The SIS team is working hard to facilitate a smooth transition. The legacy system will be shut down at 5 p.m. on Thursday, January 22, 2015, when the weekend data conversion process begins. The new system will be up and running by 12 p.m. on Monday, January 26, 2015.
To avoid possible delays, here's a list of suggested things to do before shutdown.
Learning the new system
A series of how-to guides for the new system will be available on the Student Hub in early January.
If you have questions or need support, contact Concordia's help line at 514-848-2424, ext. 7613, or file a request at help@concordia.ca.
Look for the SIS student helpers on campus
There will be a brigade of student helpers at high-traffic areas on campus starting the week of January 26. Helpers are student peers who will be able to answer questions about the new portal and point students to additional online resources to learn more.
Between January 26 and March 16, student helpers will be stationed at a number of locations in the university — from 11 a.m. to 7 p.m. Monday to Thursday at Sir George Williams Campus and from 12 p.m. to 4 p.m. on the Loyola Campus.
Visit the Discover Concordia fair on January 13
Drop by the Discover Concordia fair on January 13 to learn more about all the services Concordia makes available to support your success. SIS information will be available at the Stay Connected kiosk. See you there!
Find out more about your new Student Information System at Concordia.
---