Student Information System: a test drive before January's 'go live'
7 million records and more in trial data conversion to Campus Solutions
December 2, 2014
Source: University Communications Services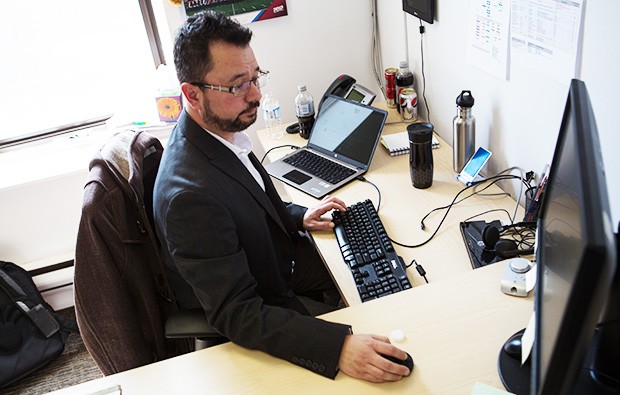 Conversion trials allow the team to make sure the almost 200 processes work and how long each step takes to complete.

Imagine converting all the university's student data — everything in SIMS, as well as stand-alone, student-related databases across campus — into one unified, digital system. It's a big job. That's why it's important to do conversion tests before the January "go live" that is fast approaching.
Concordia is implementing a new Student Information System (SIS). It's a software package from Oracle/PeopleSoft called Campus Solutions that will replace the university's 32-year-old legacy system. The test conversion phase is a key step to ensure all is good to go come the January milestone.
Trial run
The next big conversion test is set for the week of December 8, when the SIS team plans to do a timed, end-to-end trial "cut-over" to Campus Solutions.
"In a project of this magnitude, where we're converting more than 831,753 student records with more than seven million registration records, it's essential to conduct a series of cut-over trials to prepare for the January go live," says Terry Too, SIS project director. "It allows us to make sure every one of the almost 200 steps work and lets us time how long each step takes. This is a complex logistical exercise that requires everyone on the conversion team to know what they have to do, how they have to do it and when."
As Too explains, when the "go live" occurs in January, the conversion team needs to be sure that the time between turning off the old legacy system and starting up the new SIS is kept to an absolute minimum. The trials provide excellent metrics to help them predict and improve that down time.
As the SIS project hits important milestones, different types of training — instructor-led, online and coaching — is ongoing. More and more members of the Concordia user community are gaining familiarity with Campus Solutions and the many benefits it offers. Check the SIS hub for regular updates.
An institution-wide transformation
Excitement continues to build over the many improvements that the SIS provides. It supports virtually all key business functions and processes across the university, including recruitment, admissions, enrolment, academic advising, registration, course and exam scheduling, student accounts, graduation, government reporting for funding purposes and invoicing.
As the system implementation progresses, watch for updates on how different components of the SIS will benefit faculty, staff and students.
About the SIS Renewal Project
The business case for implementing a new Student Information System at Concordia was approved by the university's Board of Governors in November 2012.
Deloitte Consulting LLP was hired as the integration partner after a rigorous bidding process, and based on its successful track record of implementing the chosen system at other North American universities.

Learn more about the new system's benefits on the SIS Renewal Hub on Cspace.

---