New Student Information System to deliver registration relief
Why the waitlist feature is a winner in every way
November 19, 2014
Source: University Communications Services
With more than 1,280 students and 218 courses in the Department of Math and Statistics, registration can be rather hectic.
"Chaotic is a better word for it," says Alexandra Lemus-Rodriguez, the department's interim undergraduate program assistant. Lemus-Rodriguez reports that she typically gets a 30-foot lineup of students in the hallway during registration, along with a steady stream of emails and phone calls.
"Every department goes through their own version of it, four times a year," says Jane Venettacci, departmental administrator. "We can spend 15 to 30 minutes with each student."
When Concordia's new Student Information System (SIS) comes online starting in January 2015, a new self-service waitlist feature will be in place to greatly improve the registration cycle that opens in March for the 2015-16 academic year. Faculty and staff will then be free to focus their energies on higher-value tasks during these "crunch" times at the beginning of every term.
In October 2014, the SIS team successfully rolled out the academic scheduling and course catalogue modules of the new SIS, a software package from Oracle/PeopleSoft called Campus Solutions. Faculty and staff involved in course scheduling — administrators working in the dean's offices, Enrolment Services and the Faculty of Arts and Science academic departments — were the first to be trained to start entering information into the system for the upcoming academic year, which includes determining the waitlist capacities for each course as appropriate. This work is ongoing as faculties confirm their course offerings.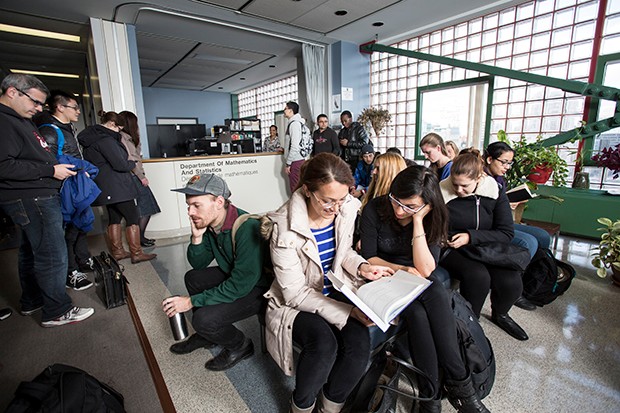 A typical sight at registration time in many departments. Here, Math and Statistics students line up hours early to get coded for course overfill. | Photo courtesy of Concordia University.
The relief of a waitlist
"The waitlist has obvious benefits for everybody — staff, faculty and students," says Terry Too, SIS project director. "It streamlines the entire mechanism of registration by providing an automated environment. It replaces paper waitlists, so it eliminates the stress and uncertainty of a manual process."
While it simplifies the registration process, the waitlist also increases transparency and fairness. It's a "first come, first serve" process for those eligible to enrol.
"We're excited that the waitlist is so fair," says Venettacci. "Currently, when students want to get into a math course and that course is full, they have to ask us to code them for overfill. The first student coded for overfill, however, doesn't necessarily get the first available seat. That seat goes to the student who happens to hit 'register' when a seat becomes available. The new system eliminates the 'chance' factor."
Respecting students with priority status
Another benefit of the waitlist is its ability to accommodate priority students.
"Some classes have priority placement for students registered in the home department," says Too. "The waitlist is designed to respect and reflect that priority."
A happy teaching faculty
This is particularly attractive to the Department of History, where they have more than 1,000 undergraduate students and 70 courses — with no priority list.
"For us, waitlisting is going to be a big boon," says Donna Whittaker, assistant to the chair of the Department of History.
"Demand for our classes is high because history is a popular stepping stone for law school and business school, so class sizes tend to creep up. Faculty members will be overjoyed to learn that their course capacities will never expand beyond capacity with the new SIS."
An indicator of demand
From an administrator's perspective, one of the advantages of the waitlist is that it's an indicator of demand.
"It's a mechanism for the department to see how many students want each course and, then, maybe consider adding another section of a popular course. It's also a safeguard to contain class size, in case there's a rush on a course," says Too.
As the SIS project hits important milestones, different types of training — instructor-led, online and coaching — is ongoing, and schedulers continue to in-put courses and provide feedback.
An institution-wide transformation
Excitement continues to build over the many improvements that the SIS provides. It supports virtually all key business functions and processes across the university, including recruitment, admissions, enrolment, academic advising, registration, course and exam scheduling, student accounts, graduation, government reporting for funding purposes and invoicing.
As the system implementation progresses, watch for updates on how different components of the SIS will benefit faculty, staff and students.
About the SIS Renewal Project
The business case for implementing a new Student Information System at Concordia was approved by the university's Board of Governors in November 2012.
Deloitte Consulting LLP was hired as the integration partner after a rigorous bidding process, and based on its successful track record of implementing the chosen system at other North American universities.
See the waitlist Q&A and learn more about the benefits on the SIS Renewal Hub on Cspace.
---