Concordia modernizing Student Information System
New system will improve service speed and efficiency to better support students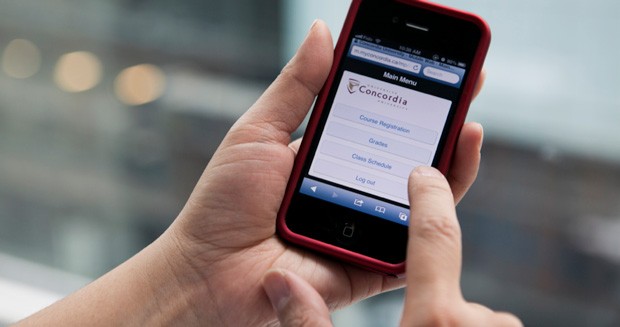 Self-service access will enable students to check grades, track academic progress, register for or drop courses, pay fees and manage their accounts quickly and easily online. | Photo by Concordia University
Technology continues to evolve quickly, and access to timely and reliable information is vital for the university's faculty, staff and students to work, study, connect and excel.
Concordia's Student Information System is a core system that supports many activities, including recruitment, admissions, enrolment, academic advising, registration, course and exam scheduling, student accounts, graduation and government reporting for funding purposes. While the 32-year-old system has been enhanced over the years, it has reached the limits of its capacity and can no longer be maintained to address evolving needs.
"We're at a critical point where we must replace our aging system. The powerful new system will allow us to work much more efficiently and will help us deliver the best possible services to support student success," explains Benoit-Antoine Bacon, provost and vice-president of academic affairs.
"The new system will reduce the number of business transactions that need to be processed manually. This should reduce wait times at the Birks Student Service Centre and give our staff the opportunity to offer even more personalized guidance and support to our students," he notes.
Students will be able to use degree-audit features to review their requirements to graduate or enrol in additional courses. Self-service options will enable them to register for or drop courses, add their names to waitlists, build personalized course schedules, pay fees and manage their accounts online.
Faculty and staff will be able to use the system to reach out to students who could benefit from different services to support their academic success, with the aim to enhance their overall student experience. Since data will be centralized in one system, faculty and staff will be able to retrieve information with greater ease, leading to more efficiencies and improved record keeping.
Ongoing information sessions and timely information on Cspace and the current student hub will keep the community apprised of project progress and key milestones. Training will be provided throughout the fall 2014 for community members to prepare and become familiar with the benefits of the new system prior to system launch.
"This project is part of our ongoing effort to create a better learning environment and to support our students in achieving their goals," says Concordia President Alan Shepard. "This new system will help us to improve communications with students, providing them with the ability to monitor their progress online, review requirements to graduate, or enroll in additional courses."
---