Get ready for a new online experience at Concordia
A mobile-friendly, self-service portal goes live January 26
December 11, 2014
Source: University Communications Services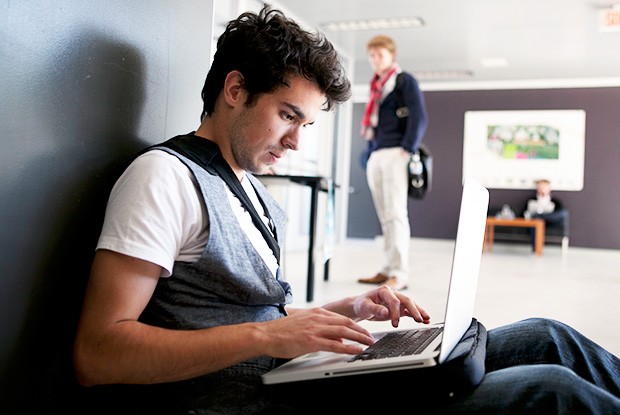 47 days and counting: Your online environment is about to change when Concordia launches a new Student Information System (SIS) on January 26 that supports virtually all student-related services, processes and business functions at the university.
Based on a packaged software platform from Oracle/PeopleSoft called Campus Solutions — currently used at more than 25 educational institutions across Canada — the new SIS will replace an aging in-house system that no longer meets the university's expanding and future needs.
What the SIS means for students
Your online experience will be improved and greatly enhanced in the new SIS.
"You'll be able to use advising features to see where you are in your program, based on courses you have taken," says Terry Too, SIS project director.
"Self-service options will make it easier to register for or drop courses, add your name to automated waitlists, build personalized course schedules, apply for financial aid and awards, request and pay for official transcripts and letters of attestation, pay fees and manage your account online — all of which will be accessed from a single space in the MyConcordia portal."
Stay tuned: In January, you'll be able to learn all about features and benefits and access how-to information for navigating the new environment on the Student Hub.
8-digit ID card numbers: What to do
The new SIS requires an 8-digit student identification number — a change from the current 7-digit system. For more information, see "Introduction to the new 8-digit Student ID card".
Most students admitted to Concordia in the fall 2014 term received a new 8-digit ID card and were told to "drop the 2" at the beginning of the sequence when required to enter the number manually. Once the new system goes live on January 26, you are good to go — and to enter all 8-digits.
7-digit ID cards: "Add a 2, good as new!"
Current students with 7-digit ID cards will need to do the opposite. You'll need to add a 2 at the beginning of the 7-digit number sequence to create an 8-digit number when manual entry is required.
For sustainability and cost reasons, Concordia will not be issuing new ID cards for students with 7-digit ID cards. You will continue to use your existing ID card for the remainder of your studies at the university, but any replacement cards will feature the new 8-digit ID. For more information, see "New 8-digit student ID cards: What you need to know".
The countdown to shutdown
The SIS team is working hard to facilitate a smooth transition. The legacy system will be shut down on Thursday, January 22, 2015 at 5 p.m., when the weekend conversion process begins. The new system will be up and running by 12 p.m. on Monday, January 26, 2015.
Birks — closure on Friday, January 23
After shutdown on Thursday evening, the Birks Student Service Centre will remain closed until Monday, January 26 at 9:00 am. On Friday, January 23, phone lines will remain open to answer student inquiries, but no online transactions will be possible until the new system is up and running.
Your to-do list
Taking care of these items before 5 p.m. on Thursday, January 22, 2015 will help avoid any possible delays.
Pay your tuition

No online transactions will be possible during the blackout period until the new system is live on Monday, January 26.

Effective immediately, when paying online or at a financial institution, please use your full 8-digit ID. Students with a 7-digit card will have to add a "2" at the beginning of the sequence. Once the system is live on Monday, January 26, all 8-digits of the student ID will be required to perform all student-related transactions.


Collect any financial aid or awards
Check the MyConcordia portal for more information.


Submit your CREPUQ and code permanent documentation before January 19, 2015


Request transcripts before January 12, 2015
This will ensure a five-day turnaround.


For graduate students: place any graduate student requests before January 15, 2015
Learn more about how the new Student Information System will transform Concordia.

---