January 26: the Student Information System launch is here
Super Users and online resources will support the transition phase
January 21, 2015
Source: University Communications Services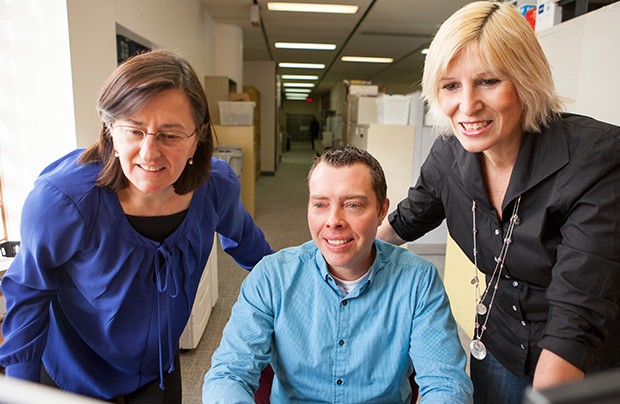 Marie-Claire Newman, David Dedeyne and Dina Carosielli review training material on the new Student Information System. | Photo by Concordia University
If you ask Dina Carosielli if she's excited about the new Student Information System (SIS) launching on January 26, her answer is unequivocal.
"It will streamline so many aspects of our process," says Carosielli, supervisor of the Undergraduate and Graduate Service Teams in the Office of the Registrar. "The new system will save us a lot of time at peak work periods in June and November."
These are just a few advantages of the SIS, a software package from Oracle/PeopleSoft called Campus Solutions that will replace SIMS — the university's 32-year-old legacy system.
This institution-wide transformation will completely change the interactive relationship that students have with the university, while also offering improved access to key information for faculty and staff.
A unified system with more autonomy
"With SIMS, we had to ask IITS to do a lot of uploading, but now we can do it ourselves and run our own queries and reports," says Carosielli, who has been collaborating with the SIS team for several days a week since September.
She finds that the SIS provides more precise billing, as well as more effective tracking of student awards and graduation fees. But one of the greatest overall benefits, according to Carosielli, is the unification of the four stand-alone, in-house computer systems used by the Office of the Registrar and many other departments at Concordia.
"We use SIMS, OLGA, Degree Audit and Accounts, and they currently don't talk to each other," says Carosielli. "The SIS will gather everything into one unified system."
Trained and confident
Even though the new SIS is relatively easy to use, it is an entirely different online environment to the current system.
Consequently, the SIS team collaborated with department representatives to create online self-study modules that cover more than 130 topics. Located on Moodle, the online training complements ongoing instructor-led classes and coaching sessions provided by the training team.
"Our training was really thorough,"says Marie-Claire Newman, manager of Government Reporting and Statistics, Office of the Registrar. "It started back in October with a session to introduce us to new terminology, followed by several coaching sessions about the functions we perform every day."
Newman and her colleagues also received how-to navigation guides and job aids, in addition to their relevant self-study modules. Likewise, each administrative area and academic department across campus has a customized training plan.
David Dedeyne, manager of Application and Documentation Processing at Enrolment Services, feels equally confident about the transition to the new system: "We have easy-to-follow training modules that show us how to do important functions, such as creating a student application and how to implement searches and run our queries."
While there is excitement and anticipation for the new system launch, all agree that — as with any implementation of this size and scope — some glitches are to be expected in the first few hours, days and weeks of transition. The SIS project team will be there to support staff and work through any required fixes.
Super User support
When the new system goes live, and for the first critical weeks following, Super Users — such as Carosielli and Dedeyne — will be stationed in administrative areas and academic departments to answer questions as they arise and to provide support.
You can find out more about the support structure on the SIS Renewal Project Hub. A list identifying the Super Users per department is also available there.
"I feel confident about the transition and adaptation phase," says Dedeyne. "As we strive for more efficiency, all our processing will be faster and better with the new SIS."
He adds that patience and understanding from the Concordia community will be appreciated as staff continue to gain experience with the wide range of functionality in the new system.
Find out more about how to prepare for the transition to the Student Information System on the SIS Renewal Project Hub on Cspace.
---