Get ready: the new Student Information System goes live Jan. 26
Birks will be closed Friday, January 23 during system transition
January 15, 2015
Source: University Communications Services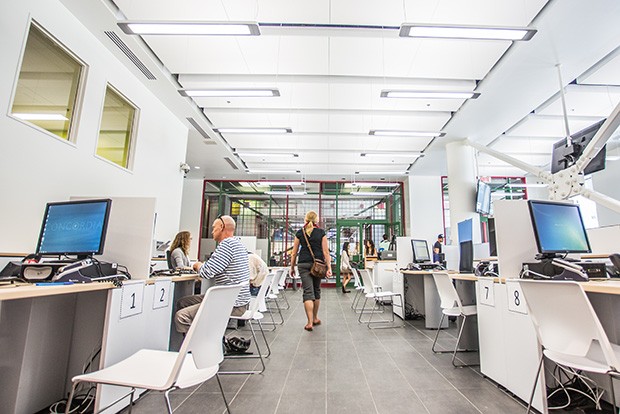 Birks will be closed Friday, January 23 for the system shutdown and conversion period but phone lines will remain open. | Photo by Concordia University
There's only one week left until Concordia begins the transition to an entirely new Student Information System (SIS). Your online experience will be greatly improved through a new self-service dashboard accessed on MyConcordia portal, making it easier to manage all your administrative tasks in one place.
Here's what you need to know now:
Shutdown logistics: Birks closed Friday, January 23
The SIS team is working hard to facilitate a smooth transition. The legacy system will be shut down on Thursday, January 22, 2015 at 5 p.m., when the weekend conversion process begins.
Birks Student Service Centre will be closed from 3 p.m. on Thursday and remain closed until noon on Monday, January 26, subject to system availability. Phone lines will remain open to answer student inquiries, but no online transactions will be processed until the new system is up and running on Monday, January 26, 2015.
Things to do before shutdown
Taking care of these items before 5 p.m. on Thursday, January 22, 2015 will help avoid any possible delays.
1. Pay your tuition
No online transactions will be processed during the blackout period until the new system is live on Monday, January 26. Effective immediately, if you pay tuition at your financial institution or via online banking, please use your 8-digit ID number.
Students with 7-digit ID cards will need to add a "2" at the beginning of their number sequence when manual entry is required.
The deadline for winter term fee payment is January 31, 2015.
2. Collect your financial aid or awards
Check the MyConcordia portal for more information.

Submit your Quebec Residency and code permanent documentation before January 16, 2015


Look for the SIS student helpers on campus
There will be a brigade of student helpers at high-traffic areas on campus starting the week of January 26. Helpers are student peers who will be able to answer questions about the new portal and point students to additional online resources to learn more.
Between January 26 and March 19, student helpers will be stationed at a number of locations in the university — from 11 a.m. to 7 p.m. Monday to Thursday at Sir George Williams Campus and from 12 p.m. to 4 p.m. on the Loyola Campus.
A series of how-to guides for the new system will be available on the Student Hub.
If you have questions or need help, call Birks at 514-848-2424, ext. 2668.
For technical support, contact Concordia's help line at ext. 7613 or file a request at help@concordia.ca.

Learn more about your new Student Information System.

---