Recognizing outstanding teachers
Four professors receive President's Excellence in Teaching Awards
The name says it all. The President's Excellence in Teaching Awards are given out annually to Concordia professors who have demonstrated an outstanding commitment to their teaching practices.

"These awards recognize the importance of teaching in university life," says Concordia President Alan Shepard. "This year's recipients all share one thing in common – a passion for teaching – and this is what our students expect."

The Faculties nominate individuals for the President's Excellence in Teaching Awards, then a committee consisting of a representative from each Faculty selects a recipient in the categories of New Teacher, Excellence in Teaching and Innovative Excellence in Teaching.

Vice-Provost, Teaching and Learning, Ollivier Dyens says the awards are also part of the goal of fostering a strong teaching culture that complements the university's research.

"Research is what makes a university different from other institutions. That is why we want to emphasize how research and teaching feed into each other, and show that they're both very important," he says, noting that deciding on the recipients is a difficult decision because each nominee has an impressive file.

The recipients will be honoured at a reception hosted by Concordia President Alan Shepard in early June.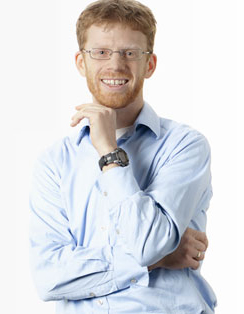 Award for New Teacher: Matthew Barker
Matthew Barker, assistant professor in the Department of Philosophy, says he has become more sensitive to the diversity of students' goals and abilities since arriving at Concordia two years ago.

"It's a marvellously diverse student body, and with that you get a diversity in abilities and in goals," he says. "You get people who are studying philosophy because they love it, and they want to learn more, and others for whom it's just a stepping stone … That has really affected the kinds of strategies I use in the classroom."

One of Barker's strategies involves helping students develop the basic skills needed to practice philosophy, instead of focusing on content. "The aim is to get students to actually do philosophy themselves, rather than just learn about it or be told about it," he says.

Barker also tries to incorporate "active" learning methods, getting students to interact in the classroom both with him and each other. "I prefer a diversity of methods," he says.
"For some material, I think lecturing in the old-fashioned way is great, and appropriate, but I also think other things are better suited to an active learning approach."

Often, Barker says, he'll go over the same material twice, using two different approaches. "For some students it's beneficial both ways. For others it really isn't beneficial one way, so they need the second way."

Receiving the President's Excellence in Teaching Award provides some confirmation that his teaching practice is heading in the right direction, he says. "It's nice when you get something like this that says some of the particular things you've been trying are working, and gives you a reason to keep refining them, and using them."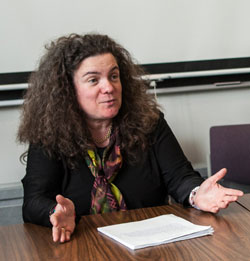 Award for Excellence in Teaching: Dina Giannopoulos
"Teaching is a passion," says Dina Giannopoulos, associate professor in the Department of Psychology, who teaches at both the graduate and undergraduate level. "This award is an honour, and it speaks to my commitment to the students and the training of graduate students at Concordia."

Giannopoulos, who will be featured in the ongoing NOW series profiling Concordia's leading teachers, is the director of the Applied Psychology Centre, a training clinic for graduate students in the Clinical Program in the Department of Psychology. She admits she demands a lot from her students, but that they appreciate her commitment to their education and to preparing them for their careers.

"You need to love what you do, and I think if you can make that available, that kind of commitment that you have, to what you do to your students, they pick that up, they know it," Giannopoulos says. "It's a commitment and a passion for me, and a desire to train the next generation and to have an impact."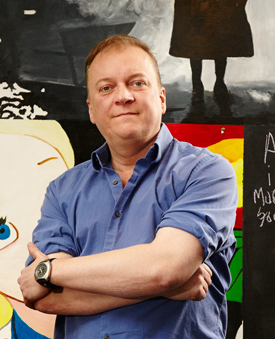 Award for Excellence in Teaching: Matthew Hays
Asked to describe his teaching practice, Matthew Hays, a part-time professor in the Mel Hoppenheim School of Cinema and the Department of Journalism, uses the word eclectic. "I do a lot of different things in class," he says. "Sometimes I'm lecturing, sometimes we're having discussions, sometimes we're doing exercises."

The most important thing is to keep the students engaged, he says. "Having a conversation is crucial, because if you're not engaging the students, if it's just me talking … that can get really boring."

Hays says being in the classroom and having conversations with his students is a continuation of his own education, which helps keep his teaching practice infused with new ideas.

"The conversation changes with every group of students. It's a different chemistry, a different set of people. That's why to me it's so endlessly fascinating. I just get to talk to people all the time about their thoughts on whatever the issue is we're teaching on any given day, on whatever the topic is."

An award-winning film writer and critic, Hays says he was delighted to be singled out for an award for his contributions as a teacher at Concordia. "It's recognition from the students and from my peers that I've done a conscientious job. And I do love it. I really do."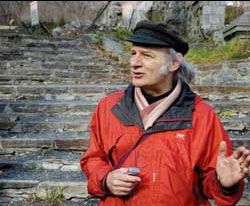 Award for Innovative Excellence in Teaching: Jean Bélisle
To his colleagues in the Department of Art History, recently retired professor Jean Bélisle was a shoo-in for a President's Award for Innovative Excellence in Teaching.

"Jean has inspired thousands of students with his profound knowledge of and love for the built environment of Montréal," wrote professors Cynthia Hammond, Loren Lerner, Anne Whitelaw and Catherine Mackenzie in a letter supporting his nomination. "He encourages students to learn with their hands as well as their minds, teaching them in real-time how to build the types of architecture he is asking them to study in the classroom."

Bélisle arrived in the department at Concordia in 1979, and soon set about transferring his passion for historical architecture onto his students. One of his unconventional teaching techniques involved taking groups of students to a wooded property in the Laurentians so they could learn about historical structures by building them themselves.

In other classes, he would take his students on guided tours of the city, so they could learn about Montreal's built history through looking and walking. "For many years his courses attracted huge numbers of students from across the university, students who battled to do treks throughout the city in weather that was often challenging," wrote Mackenzie, acting chair of the Department of Art History, in her nomination letter.

Before retiring last year, Bélisle created an online course based on his popular walking tours of Montreal. The course uses narrated photographs and video clips to provide a virtual guided tour of numerous historically and architecturally significant sites around the city.

Bélisle supported his students throughout their academic careers, and encouraged many of his undergraduates to continue their studies at the graduate level. Many of his former students sent letters supporting his nomination for the teaching award.

"I owe much of my graduate thesis to him and his belief in my project. He has been a source of inspiration throughout my academic career," wrote Lindsay Ann Cory, a graduate from the master's program in Art History.

Related links:
• Office of the President
• Centre for Teaching and Learning Services
• Matthew Barker's professor profile
• Dina Giannopoulos's professor profile
• Matthew Hays' professor profile
• Jean Belisle's professor profile
---