Interim dean of Faculty of Engineering and Computer Science appointed
Christopher Trueman assumes the role while search conducted for new dean
Interim Provost and Vice-President, Academic Affairs, Lisa Ostiguy has announced that Christopher Trueman will serve as interim dean of the Faculty of Engineering and Computer Science while a search is conducted for a new dean to assume this leadership role.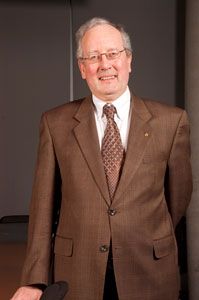 "Christopher Trueman has a long history of leadership and of academic excellence in the Faculty. He is ideally placed to help continue the record of success and accomplishments in Engineering and Computer Science," says Ostiguy.

Trueman is currently associate dean of academic affairs for Engineering and Computer Science. He first joined the Faculty in 1974 as a sessional lecturer in the Department of Electrical and Computer Engineering and became a full professor in 2000.

He is a senior member of the Institute of Electrical and Electronics Engineers (IEEE). For more than two decades he has held a continuous operating grant from the Natural Sciences and Engineering Research Council of Canada (NSERC). His BEng, MEng and PhD degrees are from McGill University and his research career has focused primarily on computational electromagnetics with applications to broadcast antennas, power lines, aircraft antennas, cellular phones and indoor propagation.

"I look forward to serving the Faculty as interim dean and assisting in our very necessary mission of providing high-quality education, promoting high-calibre research, and developing the profession of engineering and computer science in an ethical and socially responsible manner," says Trueman, who assumes his new role July 1, 2013.

Related link:
• Concordia's Faculty of Engineering and Computer Science
---