Engineering success
Students win top prizes at annual Quebec Engineering Competition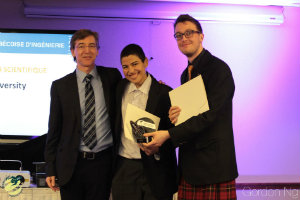 Students from the Faculty of Engineering and Computer Science have excelled in the 2013 Quebec Engineering Competition. A Concordia team garnered first place in the Scientific Communication category and another won third place in Junior Design at the competition held January 24 to 26 at the Université du Québec à Chicoutimi.

Nearly all of the engineering faculties in Quebec take part in the annual competition. This year 18 Concordians made the trip to Chicoutimi sharing a bus with McGill University students.

The Concordia students in the Scientific Communication category had to give a 15-minute presentation in a clear, concise and compelling way.

"We made the argument that 3D printing is definitely the future of manufacturing," says Keroles Riad, a student in the Department of Mechanical and Industrial Engineering. "Our theme was that 3D printing is the equivalent of the replicator in Star Trek because we can already make 3D prototypes of art structures, bone implants, heart valves and much more."

"The experience was exhilarating," says Sergio Lando, a mechanical and industrial engineering student who is completing his degree on a part-time basis while working full-time at the Bombardier Inc. aerospace company.

Students in the Junior Design category all had fewer than 60 credits towards their degree. The Concordia team built a self-propelled, foldable bridge using Popsicle sticks, string and other commonplace materials. The entry was judged on its load-bearing capacity relative to its weight, and how quickly the bridge could move across a two-metre course and stop right at the finish line.

"The challenge was to combine the mechanical and electrical components," says Charles Guillot-Storr, a student in the Department of Mechanical and Industrial Engineering who appreciated the contest as a great learning experience.

"I learned some key things," he says, namely: "Be prepared, even though you never know exactly what to expect.

"Teamwork is the most important part," he adds. "And to enjoy what you're doing."

Related links:
• Faculty of Engineering and Computer Science
• Quebec Engineering Competition



---