Space Concordia's next mission
Ideas for space research solicited from internal community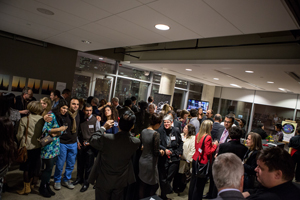 After winning the first-ever Canadian Satellite Design Challenge last year, Space Concordia has high aspirations for 2013. The student-run astronautical association has assembled a new team to enter the second edition of the competition, in which it will compete against some of the top universities across Canada.

Now, the team is seeking help from the Concordia community to find a winning "payload" – scientific equipment that can execute valuable research in space. The deadline to pitch an idea is January 25, 2013.

"A successful payload should be something unique that has not been tried before in space," explains Mehdi Sabzalian, a mechanical engineering student and member of Space Concordia.

Ideas to date include studying the ability of plants to produce food and the recycling of carbon dioxide during space missions along with exploring the possibility of synthesizing fuel from atmospheric gases. Space Concordia welcomes new submissions via its website.

The new team already has 20 members, but additional volunteers are welcome. "Space Concordia is not solely for engineering students," says Sabzalian. "We have members in actuarial mathematics and international business who are in charge of our finances. We would like to get even more non-engineering students involved."

In December, Space Concordia was recognized for the accomplishments of its members during a packed reception with President Alan Shepard, Robin Drew, dean of the Faculty of Engineering and Computer Science, and friends, family and supporters from industry. There was even a congratulatory video message from Julie Payette, the famous astronaut and Quebec's scientific delegate to Washington, D.C., as well as the recipient of an honorary doctorate from Concordia.

"I was overwhelmed by the kind words and support from everyone at the reception," said Nick Sweet, the team leader for the first satellite, ConSat-1. "It made the whole team feel incredibly honoured and proud to be a part of Space Concordia and Concordia University."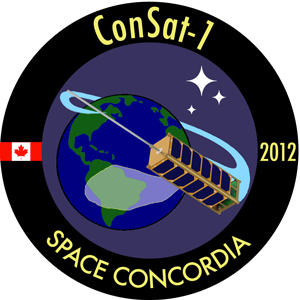 The reception also provided an opportunity for Space Concordia to keep alive a long-standing astronautical tradition: unveiling the new "mission patch" for the winning satellite.

ConSat-1 must now be prepared for its eventual launch. Sweet says the satellite has been disassembled and checked for structural integrity. The team will spend the coming months rebuilding it, which will require the manufacturing of several components. The group is also working on the logistics of securing the satellite's spot on a rocket for the launch into space, as well as scouting out a location for a ground station, from which the satellite will communicate with Earth.

The satellite's mission will be to study the South Atlantic Anomaly, a plasma cloud over South America comprised of high-energy particles that are known to disrupt the instrumentation of spacecraft and aircraft.

The upcoming year will be busy for Space Concordia as it focuses on juggling the launch of ConSat-1 and designing and building ConSat-2. The association also plans to enter an international rocket-building competition.

"The most successful team is the one that can squeeze the most out of their time," says Sabzalian. "Organization is key to balancing satellite work and school work."

Related links:
• Submit an idea
• Space Concordia
• Faculty of Engineering and Computer Science
• Canadian Satellite Design Challenge

---