Concordia professor selected to head IEEE Canada
The Canadian branch of the Institute of Electrical and Electronics Engineers (IEEE) has chosen Amir Aghdam as its president-elect
Amir Aghdam, associate professor in the Department of Electrical and Computer Engineering, has been named president-elect of the Institute of Electrical and Electronics Engineers Canada (IEEE Canada).

"This is a wonderful achievement," says Robin Drew, dean of the Faculty of Engineering and Computer Science. "… a tribute to Dr. Aghdam's dedication and hard work."

Aghdam has been an active member of the association for nearly a decade. Joining the Montreal section in 2002, his enthusiasm quickly established him as an adept organizer. In 2005, he was elected as chair of IEEE Canada's Montreal section. Two years later, he was chosen as chair of the organization's eastern region in Canada.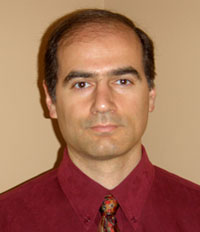 One of his first achievements during his two-year tenure was getting the Electrical Power and Energy Conference (EPEC), which was largely organized by Ottawa members and well attended in the east, to become a fully sponsored IEEE Canada event. He then forged a team of Montreal and Ottawa section volunteers to deliver the first of many repeated successes of this now internationally attended conference.

During the rest of his tenure, he continued to be a driving force in the multi-section delivery of other IEEE conferences, as well as serving on steering committees, as technical program co-chair, local arrangements chair, and awards co-chair. He also organized more than 100 talks in Montreal and other cities in Eastern Canada. In 2011, he received the IEEE Canada's J.J. Archambault Eastern Canada Merit Award for his outstanding service. Two years earlier, he was awarded the IEEE MGA (Member and Geographic Activities) Award for promoting section collaboration.

Prior to joining Concordia, Aghdam was a development engineer at Voyan Technology in Santa Clara, California, and a post-doctoral fellow at the University of Toronto. He served as founding chair of the IEEE Control Systems chapter (2004-07) and co-founder of the joint IEEE SMC/AES chapter's Montreal section (2005).

He has published more than 100 refereed papers, books and book chapters, and holds two patents with the US Patent and Trademark Office. He is the editor-in-chief of IEEE Canadian Review, a member of Professional Engineers Ontario, and general chair of the 25th IEEE Canadian Conference on Electrical and Computer Engineering (2012 CCECE).

Related Links:
• Faculty of Engineering and Computer Science
• Department of Electrical and Computer Engineering
• IEEE Canada
---