Senate meeting focuses on governance and the academic plan
Research units recognized; Engineering and Computer Science's General Studies Unit renamed.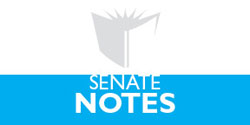 Much of the discussion during the March 18 meeting of Concordia's Senate concerned issues of governance at the university and the draft academic plan.

Building on the announcement made earlier the same day on the mandate and appointment of members to the External Governance Review Committee, President Fred Lowy encouraged all individuals and groups interested in providing input to contact the committee and to submit in writing.

There was concern expressed by some senators that the committee's timeline of 60 days to generate a report may not be optimal for adequate input and reflection. Student senators pointed out that the exam period and Concordia Student Union elections may also conflict with the April 15 deadline for written submissions.

A discussion ensued about the possible extension of the timeline from 60 to 90 days, including an extension of the submissions deadline. President Lowy explained that the mandate of many governors ends in June and emphasized the need to finalize the governance report before the appointment of new governors. He added that the 60 days was a recommended target. No decision for prolongation was ultimately made.

There was also concern about information being properly communicated among Senate, the Board of Governors and the External Governance Review Committee. Lowy gave assurance that all information would be appropriately transferred between the three bodies.

It was also agreed that Lowy would present the committee's final report to Senate at a later date.
---
Provost David Graham discussed the academic plan, the document that will guide Concordia's academic mission for the next three years.

Graham outlined the items in the plan that have received positive reactions, as well as those that have generated questions from the academic community.

He stated that if adequate input has not been received in time for Senate approval at their April 15 meeting, he would consider postponing the tabling of the plan until Senate's May 20 meeting.
The academic community is encouraged to continue to submit suggestions for inclusion in the draft academic plan.
---

In other Senate news:
It was resolved that the Engineering and Computer Science General Studies Unit (GSU) would be renamed the Centre for Engineering in Society (CES).

It was also resolved that seven Concordia research units had met the necessary criteria to receive university-recognized status and become eligible for internal funding. The research units are the Concordia Centre for Composites (CONCOM), the Center for Studies in Behavioral Neurobiology (CSBN), the Centre for Structural and Functional Genomics (CSFG), the Centre for the Study of Learning and Performance (CSLP), the Centre for Research in Human Development (CRDH), the Technoculture, Art and Games (TAG) Research Group, and the Concordia Centre for Broadcasting Studies (CCBS).


Related links:
• Senate
• External Governance Review Committee
• "Members of External Governance Review Committee Named" - NOW, March 18, 2011
---