Concordia alumnus named New Face of Engineering
MSc Javad Lavaei has been recognized as a leader among his peers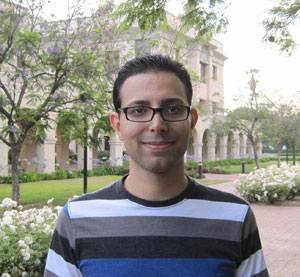 Javad Lavaei is no stranger to accolades. In 2008, the then-master's student from the Department of Electrical and Computer Engineering received a Governor General's Gold Medal, awarded each year at fall convocation to Concordia's most outstanding graduate student. In 2010, he was awarded the Master's Thesis Award for 2009–10 from the Northeastern Association of Graduate Schools.

Now a PhD candidate at the California Institute of Technology, Lavaei'sdone it again. He has just been named a New Face of Engineering by the National Engineers Week Foundation (EWeek) in the United States. Every year, the organization asks its members to nominate colleagues aged 30 and younger who have shown outstanding abilities and leadership.

As a member of the international Institute of Electrical and Electronics Engineers and a rising star on the academic scene, Lavaei was the perfect candidate. His former Concordia supervisor, Amir Aghdam, couldn't agree more.
"Javad's extraordinary intelligence allowed him to obtain exciting research results, from which he published several papers in the most prestigious journals and conferences. I take pride in having mentored this brilliant young gentleman, whose success has put Concordia University in the spotlight at the national and international levels, repeatedly," Aghdam says.

These sentiments are mirrored by Lavaei himself, who warmly stated, "I would like to thank Concordia University and in particular my former advisor, Dr. Amir Aghdam, for shaping my academic career and helping me become a successful engineer."

The New Faces program is designed to promote the importance of technical education, celebrate engineering careers and recognize significant contributions to the engineering profession and society. National Engineers Week took place February 20 to 26, 2011.
Related links:
• EWeek website
• "MA Research on Golden Road: Javad Lavaei" – Journal, November 20, 2008
---