Concordia gets top ranking at National Industrial Engineering Conference
Over 400 students from 10 universities participated in the annual event
Every year, students from across Canada gather to listen to industry leaders and professionals discuss various issues and challenges related to industrial engineering (IE).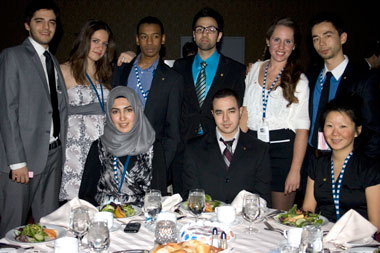 This year's three-day conference was hosted by École Polytechnique de Montréal in collaboration with the Institute of Industrial Engineering.
The theme was "Industrial Engineering, an Oopportunity for Healthcare and Services."
Over the course of the event, IE students from 10 universities were inspired and wooed by interesting presentations and discourses from senior consultants, directors, vice-presidents and CEOs from Bombardier, Rockwell, Trellisys, Deloitte, Pratt & Whitney, Alstom, Air Canada, Hydro-Québec, SNC-Lavalin, and L'Oréal to name a few.
The conference also featured theoretical and practical competitions, tours of engineering labs and networking events.

Easy as 1234 … 1 silver, 2 golds: 3 medals, 4 competitions
Concordia's delegation participated in all four academic competitions – and earned three medals: one second place and two first places.

Theoretical: 2nd place
Ali Khatchab, Jean-François Colin, Wissam Nakhle, Wajeeh Jamjoon
This competition measures the level of theoretical expertise acquired by the participants. Teams of four students test their academic knowledge during a two-and-a-half hour exam.

Simulation: 1st place
Liat Artzy, Jamal Khayyat, Alfred Mannesseh
New this year, the simulation competition case study was given in mid-December. Students had one month to develop a model respecting all constraints given in an 11-page problem statement. Before the presentations, Rockwell officials gave additional information and new constraints to the competing teams who had three hours to reflect the changes in their model.

Technical Paper: 1st place
Jonathan Rodriguez, Improving the Performance in a Radiology Department of a Community Hospital in Quebec
Jonathan Rodriguez will be invited to participate in the Undergraduate Technical Paper Competition International Finals at the Institute of Industrial Engineers (IIE) Annual Conference and Expo in May in Nevada.

After a tight vote with chapter leaders from all 10 universities, Concordia was voted the 2013 host for IIE's National Conference. Two years ago, Université du Québec à Trois-Rivières hosted the conference; last year it was University of Windsor in Ontario.
Related links:
• IIE Conference 2011
• Industrial Engineering at Concordia
---