Honorary doctorates
Trio featured at Concordia's Place des Arts convocation on Nov. 1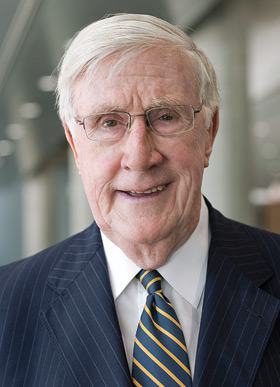 BRIAN O'NEILL GALLERY
10 a.m. – Faculty of Arts and Science
Brian O'Neill Gallery is a successful publisher, corporate director, civic leader and stalwart supporter of Irish history and culture in Canada.

His business acumen has led to his appointment to more than a dozen corporate and community service boards, including Director and Acting Chair of Canadian National between 1986 and 1990, and director of the Export Development Corporation between 1993 and 1997. His civic duties have included serving as alderman and commissioner of public services for the City of Westmount between 1975 and 1983, and as mayor from 1983 to 1987.

Since his graduation from Loyola College in 1957, Gallery has remained an ardent supporter of his alma mater. In 2007 he organized the 50th anniversary of his Loyola class reunion and raised $20 000 for a scholarship in its name.

For the past 15 years Gallery has worked tirelessly on behalf of the Canadian Irish Studies Foundation. As Chair of the Foundation since 1999, he has shown vision and leadership in facilitating a model partnership between the university, community and government. The Foundation has raised approximately $7 million in endowment funds and provided an additional $1 million to Concordia University to support the development of its School of Canadian Irish Studies.

He was awarded the 125th Anniversary of Confederation of Canada Medal in 1992, and the Queen Elizabeth II Golden Jubilee Medal in 2002.
VICTOR (VIC) STEFAN VOGEL
3 p.m. – Faculties of Fine Arts and of Engineering and Computer Science
Victor Stefan Vogel has been a pivotal force in establishing Montreal as one of the world's jazz capitals and he continues to be a musical ambassador for the city. He has also helped musicians in Cuba and other developing countries to obtain the music and instruments to play their best.

He began playing the piano by ear at the age of five after watching his older brother. He also taught himself to play trombone, tuba and vibraphone, and to arrange music. By 14, he soloed on CBC programs aired nationwide. After playing with several big-name bands, he led his first ensemble around 1960 at Montreal's Chez Paree.

He has been the music director for many CBC/Radio- Canada variety shows, and composed the scores for CBC and CTV news programs, National Film Board documentaries, as well as films.

He has shared the stage with Dizzy Gillespie, Maynard Ferguson, Gerry Mulligan, Slide Hampton, Cannonball Adderley, Chucho Valdés, Mel Tormé and numerous other jazz legends.

While stardom lures away many luminaries, Vogel has remained staunchly loyal to the local music scene, performing at every Montreal International Jazz Festival since it began 31 years ago.

Vogel considers the award-winning score he arranged for the 1976 Montreal Olympics as one of his proudest achievements. He also arranged and conducted the European Jazz Youth Orchestra in tribute to Oscar Peterson's 80th birthday.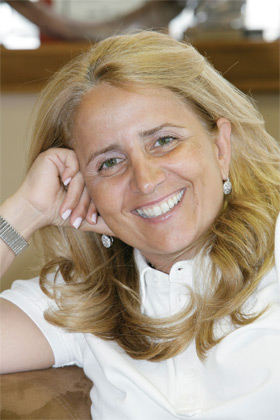 JOELLE (JOEY) BERDUGO ADLER
7 p.m. – John Molson School of Business
Joelle Berdugo Adler is a powerhouse in the fashion industry as President and CEO of Diesel Canada Inc. and the driving force behind the ONEXONE (One by One) charitable foundation.

She studied Commerce full-time at Concordia University at night while working in marketing and promotion by day. Her education helped her, alongside her husband and Partner Louis Adler, build Diesel Canada into the enormously successful Canadian house of a world-leading denim brand.

Following Louis Adler's death in 2003, Berdugo Adler established the Lou Adler Foundation in 2004 to raise funds for cancer-related charities. The Foundation evolved into the ONEXONE Foundation. Established with the philosophy that every single life is precious and that individuals can make profound changes in the lives of other human beings, ONEXONE's mission is to improve the lives of children.

After the earthquake in Haiti, ONEXONE delivered 7 million dollars worth of goods including five million dollars of medicine and medical equipment.

Berdugo Adler and her family are also the main benefactors for the Hope & Cope Wellness Centre that is now part of the Jewish General Hospital's adjunct services. Known affectionately as Lou's House, the Centre helps cancer survivors resume healthy lives with the world's leading psycho-social cancer support programs available to them free of charge.
---