Megan K. Whyte
MA 18
Addressing multigenerational trauma through visual media and art therapy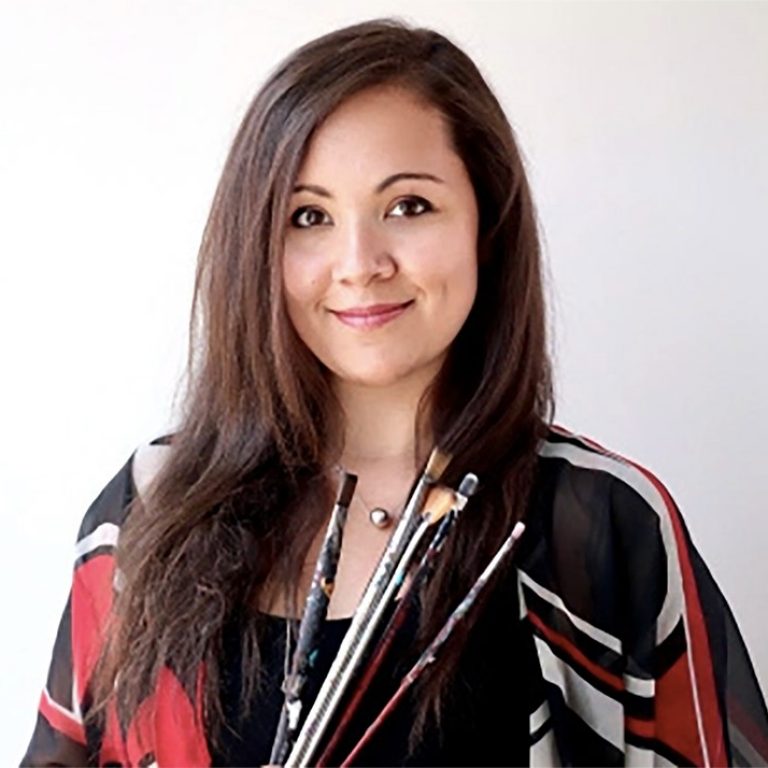 Megan Kanerahtenha:wi Whyte is an artist, art educator and art therapist from the Mohawk First Nation of Kahnawake. She completed her MA at Concordia University in Art Therapy with a focus on addressing multigenerational trauma and attachment through visual media. Currently, Megan provides individual and group art therapy to children within the school system of her community, to male Indigenous prison inmates and at pop-up community spaces.
Tell me about yourself — Who are you?
As a Mohawk First Nations woman, I first identify with my community, the land and the interconnected cultural teachings I was given. This foundation has fostered my relationships, identity and social advocacy around the concept of cultural safety. It drives my passion to cultivate a practice that creates accessibility to safety within my community against forms of ongoing colonialism and multigenerational trauma. As an artist and a therapist, I found that through making art and learning how to share art through education, people began to meet their worlds, gifts and sense of self in creative ways.
What are you doing right now? How does your present work relate to art and art education?
I currently provide culturally informed art therapy services to Indigenous children in the education system and to Indigenous men in the correctional system of Canada. Outside of a clinical framework, I create and collaborate with pop-up opportunities to build community and dialogue through art making initiatives—e.g. relationships with the Art-Hive network, youth programs on the land, or by creating shared spaces in an Elder's lodge to decrease isolation. For me, art, creation and curiosity are woven into my every day life and are expressions of growth and reflection.
How did Concordia's ARTE program prepare you for what you are presently doing?
Part of my work as an art therapist is building relationships with my clients and supporting them to build relationships with the art materials in the space. Some of the challenges these individuals face, in picking up a new material or making a mark on the surface, are navigating their own self-esteem, self-efficacy, a negative self-concept, fear of judgment, fear of failure, or a multitude of other complex psychologies that inform their sense of identity. Having a foundation in Art Education prepared me with the tools and resources to be able to model and support new artists in understanding media use and applications.
Describe one of your positive formative experiences while you were in the program at Concordia
The opportunity to combine studio art classes with experiential teacher training within the classroom was an essential component of the program. It concretely bridged together art making and sharing art making with others. I valued the opportunity to discover the extent of material interaction as an artist, to further develop media use as an educator and to challenge, learn, and explore any given concept in a curriculum. This flexibility was developed through courses that advocated to "think outside the box" while creating art within a classroom. By extention, this helped me to also "think outside the box" when working with people in any context.