Alumnus/Alumna profile
Jethro Gillespie
PhD 18
Teaching, learning and making art in a high school art milieu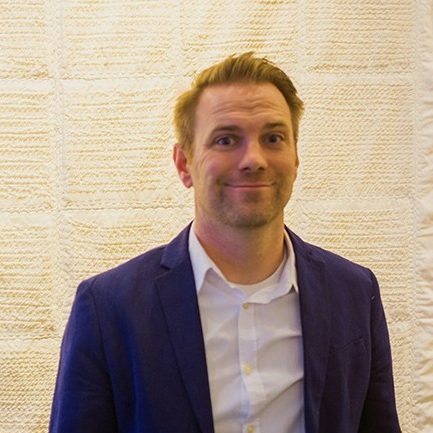 Jethro Gillespie earned his doctorate in Art Education from Concordia University in 2018. His research interests are found in complexity thinking, contemporary art, curriculum design, and Design-Based Research. Jethro lives in Spanish Fork, Utah, where he is working full time as a high school art educator. He teaches adjunct courses in Art Education at local universities.
Tell me about yourself — Who are you?
I'm a husband and suburban father of three intrepid kids. I enjoy my position as a high school art educator, where I also develop about 200 relationships with teenagers for four and a half months at a time. It's a strange kind of relationship, I guess. But I think it puts me in a very unique position to be able to get at some interesting questions and explorations with the students at an exciting time in their lives. I also like hiking, having fires with people, pruning fruit trees and going to record stores.
What are you doing right now? How does your present work relate to art and art education?
I'm an artist and educator. I'm really interested in the overlap between these two identities. Lately a lot of my personal art practice comes from my interactions with my students. I like to use my students as a medium to inform my work with a socially engaged or performative aspect. Often these interactions will result in photographs, paintings, or videos. I'm also researching aspects of teaching and learning and the different ways they occur in public schools, especially with large class sizes. As well, I'm working to develop a curriculum that addresses effective ways to teach creativity to perfectionist students.
How did Concordia's ARTE program prepare you for what you are presently doing?
I loved Concordia's Art Education program. I really valued my time with the faculty as well as the other grad students. The courses allowed me to stack up my practical experience as an art educator with so many theories and ideas. I loved the depth with which I was given to examine so many concepts and writings. The professors were extremely kind, knowledgeable and willing to work with me and my situation. Overall I had a great experience at Concordia.
Describe one of your positive formative experiences while you were in the program at Concordia
While I was finishing my coursework, I had started writing an article about TASK in the classroom. I worked with several of the Art Education faculty and we were able to set up a summer course for undergrads specifically about using TASK with students. We created a two-week intensive experience where we put together 5 TASK parties, including promoting, facilitating, and engaging hundreds of people with TASK. The department was so great in supporting it and helping us carry it out, and I was eventually able to publish my article about it as well.