Alumnus/Alumna profile
Ida Zhang
BFA 12
Blending expertise in ESL and Art Education to motivate students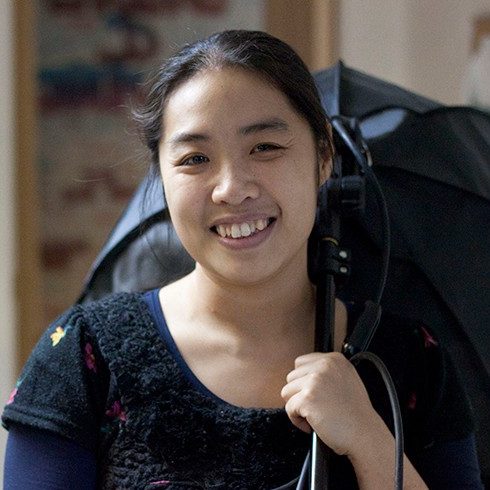 After graduation, Ida Zhang taught english in Japan and then on Peace Boat, sailing the globe. She now teaches at l'Ancre des Jeunes, a community center in Montreal where at-risk youth are offered alternative schooling. Zhang is able to fully utilize her expertise in both ESL and Art Education to build classes and projects that motivate students and let them experience success.
Tell me about yourself — Who are you?
I grew up in a family of both artists and educators, so in a way Art Education is in my genes. I am an avid reader of graphic novels and I'm fascinated with all mediums of visual storytelling. I also love handicrafts, both making them and learning about their cultural histories. I caught the travel bug after living abroad for three years, and I have an unfortunate habit of collecting books and materials that I might one day build a project around.
What are you doing right now? How does your present work relate to art and art education?
I'm working as an english teacher at a community center called l'Ancre des Jeunes that helps at-risk youth stay in school. Our center offers a wide range of art workshops as part of our regular programming. I am thus able to make full use of these resources to offer my students a more stimulating and multifaceted experience in language learning by incorporating visual media and digital storytelling in my practice. For example, we create stop-motion animations or animatics of stories the students write themselves.
How did Concordia's ARTE program prepare you for what you are presently doing?
The Art Education program's varied internship opportunities prepared me to face almost any population no matter their needs, challenges or abilities. Both the hands-on practice and the deep discussions and reflections have made me cognizant to the wider art education world and its trends and challenges. It has helped me develop a multifaceted approach in my teaching by considering both form and the content conscientiously. I am able to think outside the box and to use multimedia and multidisciplinary competencies to deliver content.
Describe one of your positive formative experiences while you were in the program at Concordia
Rather than a single experience, I am most grateful for the nurturing and stimulating community that the Art Education program offered me. Not only were the staff members all personable, knowledgeable and supportive but my classmates also all had great insights and experiences to share. Immersed in a challenging and collaborative atmosphere, I truly felt like I could be inspired by the people around me and learn to grow as both an art practitioner and as an educator.