Heather Steinhagen
BFA 17
Early childhood education advocate, creativity enthusiast and arts administrator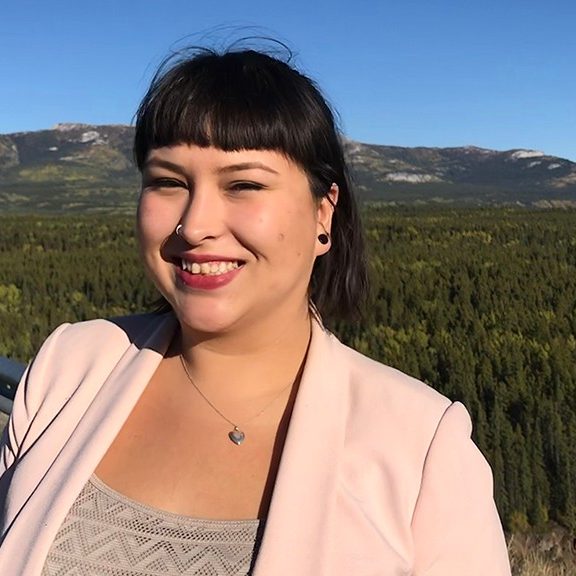 From Whitehorse, Yukon, Heather Steinhagen's Northern upbringing taught her the value of synchronicity with the planet and her elements. Heather completed a BFA with Distinction for Community Art Education at Concordia University. While continuously exhibiting her artwork nationally and internationally, she is currently the Executive Director for Arts Underground in Whitehorse, Yukon.
Tell me about yourself — Who are you?
I am a practicing artist with Cowesses Nation (Cree) and German roots. Learning is an ongoing process, both for myself and as a reflection of my teaching pedagogy. My art practice is a multidisciplinary visual representation of the ideas, expressions and emotions I've gathered, with a supernatural twist. As an early childhood education advocate and creativity enthusiast, I have worked with youth of all ages, as well as being an arts administrator. I have a diploma in Visual Arts from Vancouver Island University and a BFA in Community Art Education from Concordia University. I am currently settled back in Whitehorse wandering the woods when I'm not at my art or work desk.
What are you doing right now? How does your present work relate to art and art education?
Currently, I am Executive Director of Arts Underground, a space run by the Yukon Art Society in partnership with the Hougen Group of Companies and the Yukon Art Centre. Arts Underground is an inclusive community facility which provides exhibition opportunities for emerging, mid-career and advanced artists, hosts regular workshops in a wide variety of mediums, and facilitates the Artist in the School and Community School Touring Program. I could speak for hours about the amount of programming and opportunities we are able to provide for the Yukon—it's an art educators dream! I am also inspired daily to create and have recently exhibited as a member of the Yukon Art Society.
How did Concordia's ARTE program prepare you for what you are presently doing?
ARTE is an extremely encompassing program which provides you with transferable skills in any occupation, in my opinion. On the surface, it is a program to enhance your skills to be able to teach artistic skills and knowledge. In retrospect, the program taught me a holistic approach, not only to create and teach but to become my own self-directed and motivated lifelong learner. Most notably, the skills I earned taking the ARTE program were skills that I take with me everywhere, such as communication, collaboration, being flexible and the ability to solve problems creatively.
Describe one of your positive formative experiences while you were in the program at Concordia
Describing only one experience is like having to choose your favourite child—impossible because they were all so impactful. Being a part of the ARTE Journal was a great experience though. This experience was well-rounded, allowing me to understand the ins and outs of working in collaboration to develop, promote and disseminate a journal filled with great projects from ARTE undergraduates. I use many of the skills learned doing this project with the current work that I do. Being a part of the ARTE Journal I learned hands-on how to, among other things, manage a budget, design promotion, plan events and collaboratively manage projects.