Alumnus/Alumna profile
Christina Marie Phelps
BFA Studio Art 06, BFA Art Education 16
Using play, collaboration, and street art as a tool for artistic expression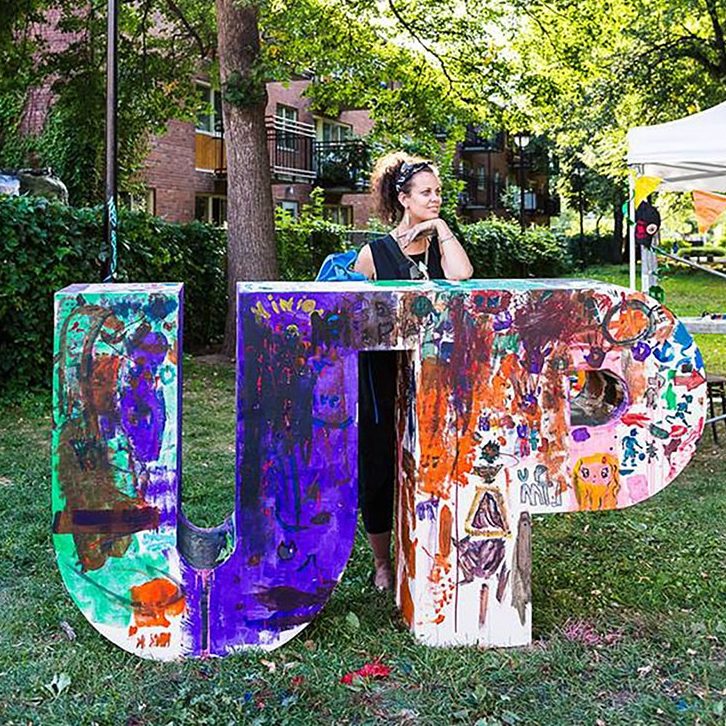 Since graduation, Christina Marie Phelps has been practicing and teaching visual arts in Montreal-area schools and in the community. She believes strongly in the value of play and collaboration as a tool for artistic expression. Her own practice is concerned with exercises in mixed media and ephemeral street art installation.
Tell me about yourself — Who are you?
I grew up in Montreal. I stumbled upon Concordia's Art Education program after receiving a degree in Studio Arts ten years prior. I had been working in the educational milieu since the age of 19. In all honesty, I should have probably applied to the Art Education Specialization for my original degree but I truly found having a basis in the more conceptual Studio Art program helped serve me well in the more philosophical Art Education Specialization program.
What are you doing right now? How does your present work relate to art and art education?
I am an educator at an independent school—St. George's School of Montreal. I am teaching at both the elementary school and high school campuses, teaching Grade 6 Visual Arts, Grade 6 Digital Citizenship, Grade 10 Media Arts and Grade 7 Math. When I'm not teaching at school, I consult on various artistic initiatives (community-based) such as the Under Pressure Festival Kids Zone, which I curate and program. I've also facilitated community art making for the Growth on the Horizon—Sexual Health event at McGill University, and even corporate collaborative art creation with Lush Canada's Do it with Love campaign.
How did Concordia's ARTE program prepare you for what you are presently doing?
I feel that, apart from allowing me to receive a Professional Brevet for teaching in schools (K-11), the degree truly emphasized collaboration. I am still very much in contact with numerous art educators, colleagues, and profs from Concordia's Art Eduction program. Networking has proven to be very fruitful for my career and the career of others. I've also helped other Art Education graduates and current students take on contracts at other independent schools and even had art education students and graduates volunteer at the annual Under Pressure Festival.
Describe one of your positive formative experiences while you were in the program at Concordia
A positive formative experience was re-learning how to play as an adult. Through the participation in the TASKencuentro themed class, facilitated by Prof. Kathleen Vaughan and featuring TASK PARTY founder/contemporary artist Oliver Herring, I had the opportunity to truly let go of art making apprehensions and lose myself in artful play. From my participation in this, I also had the opportunity to be Kathleen Vaughan's research assistant and present our TASK findings at the annual undergraduate research showcase event (CUSRA).