Alumnus/Alumna profile
Chris Taylor
BFA 13
Introducing new skills to students in a classrooms, theatres, and workshop settings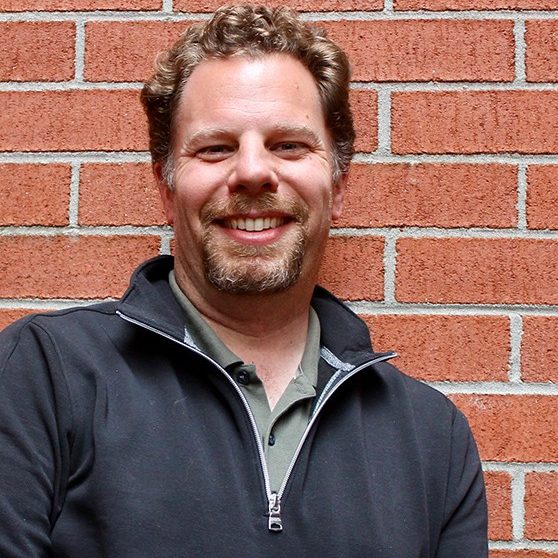 Chris Taylor graduated from John Abbott College in 2000 in Theatre Technology and Design. Chris was the technical director at St Georges School of Montreal for 12 years. He then pursued a Bachelors degree in Studio Arts and in Art Education at Concordia University. Chris currently teaches at Montreal's Hebrew Academy as the Visual Arts Specialist.
Tell me about yourself — Who are you?
I am a Montreal native and have had a great amount of luck with job postings in the private school system in the greater downtown area of Montreal over a twenty year period. With my eclectic background in theatre arts and technology and in studio arts, I have been able to teach a wide variety of projects introducing students to skills in a classroom, theatre or wood shop setting.
What are you doing right now? How does your present work relate to art and art education?
My interest in technology and engineering have recently pushed me to divert my traditional painting and drawing curriculum to more science-based building projects like vibrating "artBots," popsicle stick bridges and elastic band powered airplanes. As an art teacher I feel a need to make sure that my students know that artists don't just appear in museums—they also appear along side engineers and technicians constructing buildings and designing our modern day environment.
How did Concordia's ARTE program prepare you for what you are presently doing?
Because I was in the Art Education department and the Visual Arts department at Concordia for so long I was able to meet and see and do so many different things. Because I was able to have experiences in the studio spaces, shop spaces, photo labs, lecture halls and classrooms at the Concordia downtown campus, I was able to touch upon all aspects of the arts and not specialize in one specific field. Because of the varied classes that I was able to take at Concordia I have been able to serve my students better by presenting a curriculum that caters to their interests.
Describe one of your positive formative experiences while you were in the program at Concordia
When I began my final full-time placement at a large public school with limited resources and big class sizes I thought that I had to adapt my teaching style and expectations. After teaching at a private school for many years I had a few misconceptions that working at a public school was going to be more demanding and emotionally draining—it wasn't. With lack of budget and resources I was able to be creative with supples, use recycled materials and cover art history more often. The stages allowed me to broaden my skill set to be able to adapt to a large range of students with different learning and social needs.