Anna Timm-Bottos
MA 17
Creating a stronger zero-waste community of imaginative reclaimers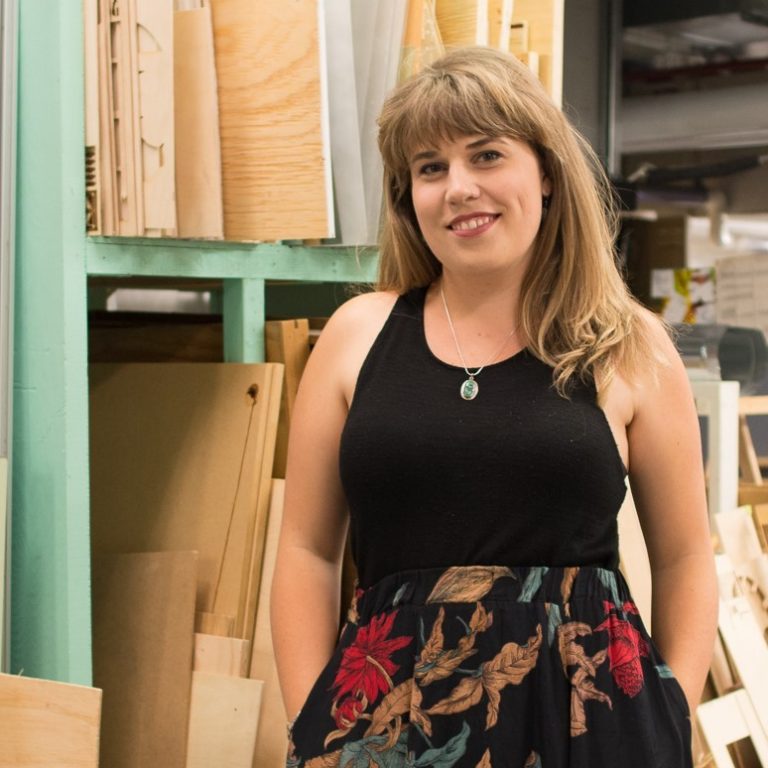 The founder and project coordinator of CUCCR dreamed of creating a stronger zero-waste community of "imaginative and informed reclaimers" at Concordia. CUCCR was informed by Anna's Art Education masters thesis (2017). Anna organizes most things CUCCR, from friend-raising and fundraising, internships, volunteers and artist residencies, skill-shares and DIY events, to the day to day administrative work of the project.
Tell me about yourself — Who are you?
I'm Anna Timm-Bottos and I am the Founder and Project Coordinator at Concordia University's Center for Creative Reuse (CUCCR). I grew up in Albuquerque, New Mexico surrounded by free community art studios, where artists made incredible things out of donated and found materials. When we moved to Canada, I decided to explore Art Education at the University of Victoria in British Columbia. I did my five-year BEd with a focus on secondary school art and taught in a variety of different settings and schools. In 2013 I moved to Montreal to do my MA and explore a different aspect of Art Education.
What are you doing right now? How does your present work relate to art and art education?
With a lot of help from my friends, I opened Concordia University Center for Creative Reuse (CUCCR) in March 2017 the same month I defended my MA thesis. CUCCR (Concordia University's Center for Creative Reuse) is dedicated to diverting usable materials from inside Concordia's waste-stream and offering them to the general community free of cost.
How did Concordia's ARTE program prepare you for what you are presently doing?
I was fortunate to have Kathleen Vaughan as my supervisor. We were talking a lot about materials and access to materials. She knew Arts Junktion in Toronto, which was a project in the school districts of Toronto. Kathleen made the connection and I went to visit. I was interested in looking for solutions to solve the problem of our students going out and teaching in community arts spaces with limited budgets. The ARTE program gave me the support and encouragement to learn what others were doing and then use that information to make a change in my own community at Concordia.
Describe one of your positive formative experiences while you were in the program at Concordia
I took on planning the graduate symposium in 2016 "Open Access: The Art of Inclusion." As a cohort we were really curious about accessibility and inclusion in Art Education and felt like there were not enough intersections to discuss disability, diversity or advocacy in Art Education. With an amazing team, we executed an incredible three day event. It was a wonderfully big project that networked across many areas of Concordia. It was amazing bringing in diverse voices of the community to present inside the institution. I think it was really a formative positive experience that gave me the confidence to continue to think bigger and do more.