Editor's note
Optimism amid uncertainty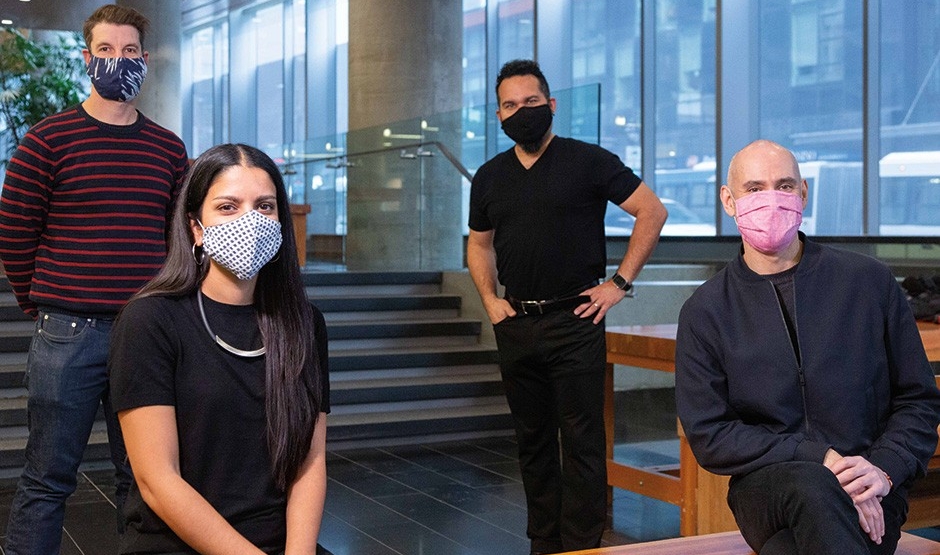 Concordia University Magazine production team (from left): Trevor Browne, designer.; Marta Samuel, GrDip 10, editor; Christopher Alleyne, BA 09, lead designer; Ian Harrison, BComm 01, associate editor
Leading up to the American elections, I — like many Canadians — apprehensively contemplated what the future might look like if the Trump administration were to earn a second term. As a visible minority whose identity as a Canadian is too often questioned, I struggled to imagine a better way forward after four volatile years.
In the United States and here in Canada, the past year alone has been filled with despair following racist attacks against BIPOC (Black, Indigenous and People of Colour) communities. And, while the November 3 results granted many of us a collective sigh of relief, these and other challenges still lie ahead, as we observe how a Biden presidency unfolds.
As the new editor of Concordia University Magazine, I look to our global network of 220,000 alumni and am reminded that there is much to be optimistic about. The innovation, talent and diversity of our grads enrich this community, and I'm immensely proud to celebrate the successes of my fellow alumni in these pages.
Regrettably, it may have been some time since you last received a print version of the magazine. This was a result of the unusual circumstances imposed by the COVID-19 pandemic. I hope you were as excited as I was to once again hold a printed copy in your hands, and also read the digital version here.
You may have noticed that this latest issue of magazine looks different — and you're right. It is the culmination of a new team collaborating together, pictured above, that I am delighted to introduce you to: Ian Harrison, BComm 01, associate editor, Christopher Alleyne, BA 09, lead designer, and Trevor Browne, designer. Countless others additionally work behind the scenes to make this final product possible.
The result is our winter 2021 issue, which showcases Concordians who forge ahead in these unparalleled times. Our features explore how alumni on the front lines of health care cope with the pandemic; how a new partnership helps foster women in engineering; how researchers and grads are working towards better food systems; and how faculty members are preparing primary-school teachers to pivot during COVID-19.
The pandemic, of course, remains a challenge to our ways of living. I am confident that our community will continue to rise to its demands. Our next-gen researchers, students, donors and alumni show us how resiliency can move us forward.
If you'd like to share any feedback, I encourage you to write to me at magazine@concordia.ca.
Until the next issue, happy reading!