Our goal
To fund a scholarship for women's rugby players in memory of Kelly-Anne Drummond.
Honour the memory of Kelly-Anne Drummond and give in support of a member of Concordia's Women's Rugby team today!

Kelly-Anne Drummond; Drummond with the Women's Rugby Team.
Kelly-Anne entered the doors of Concordia University with one goal in mind: to pursue an education in Communications with a special interest in sound, video and journalism. Always involved in sports, Kelly-Anne joined the Women's Rugby Stingers team.
Immersed in the Concordia University community, she applied herself academically and athletically, forging new friendships in class and through rugby. With a sunny attitude and an inquisitive mind, friends and professors alike recognized Kelly-Anne's keen discipline and a determination to see every project through to the end.
Kelly-Anne graduated from Concordia with a Bachelor of Arts in Communications in 2002, and passed away tragically in 2004.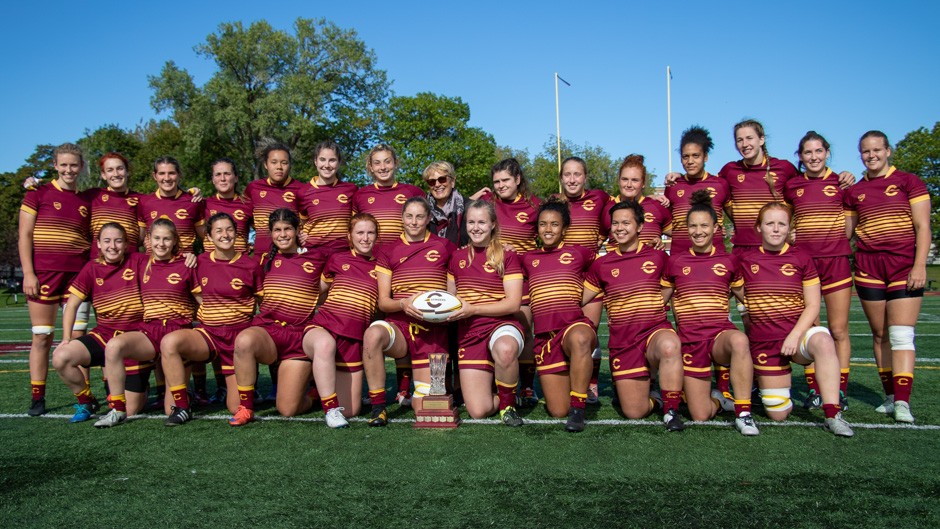 The Concordia Stingers Women's Rugby team, winners of the Kelly-Anne Drummond Cup in 2019.
The Kelly-Anne Drummond Scholarship was created by her mother, Doreen Haddad, in partnership with the Concordia Women's Rugby team.
By giving to this award, we continue Kelly-Anne's legacy, doing no less that what she would expect us to do. In her honor, her friends, family and members of the Concordia's extended community will continue to promote education and sport, supporting other women who demonstrate Kelly-Anne's sunny and ambitious attitude.
Valued at $1,000 a year, the award will recognize outstanding full-time undergraduate students who balance successful academic achievement with participation on the Women's Rugby team.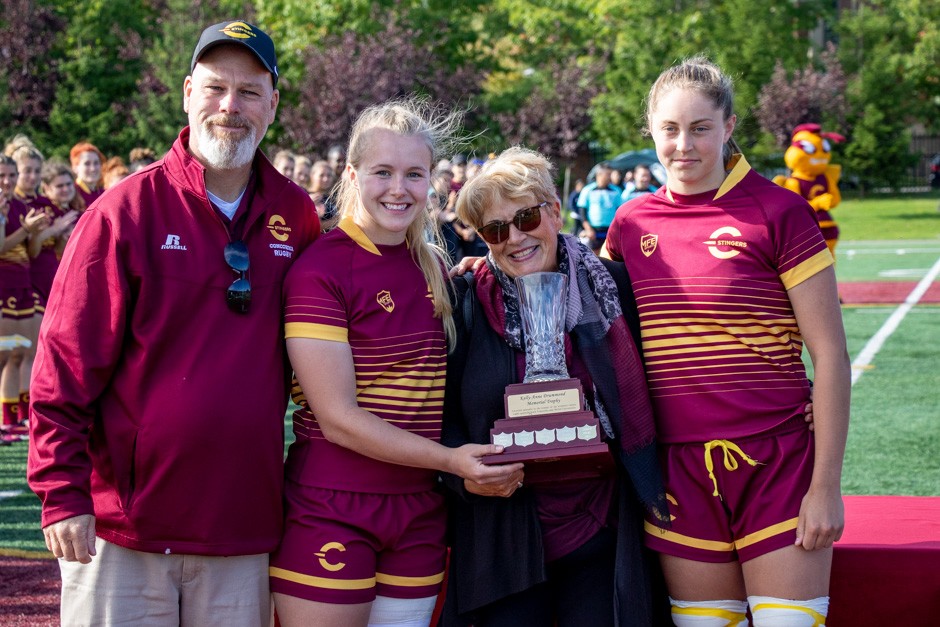 Pictured left to right: Graeme McGravie (Recreation & Athletics Associate Director, Student-Athlete Services), Kirsten Trafford, Doreen Haddad (mother of Kelly-Anne Drummond) and Shawna Brayton.
Honour the memory of Kelly-Anne Drummond and give in support of a member of Concordia's Women's Rugby team today