Huifang Bi and Victoria May are Concordia's 2023 Vanier Graduate Scholarship winners
The pair have been recognized for their respective work on oil-spill cleanup techniques and making the performing arts sector accessible to Indigenous youth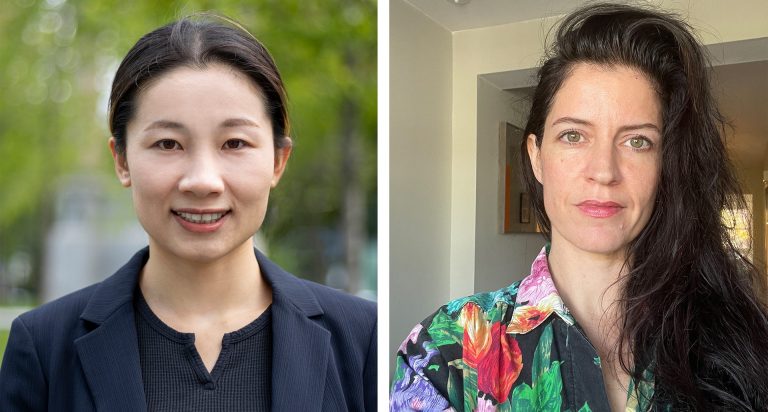 Huifang Bi, MASc 21, and Victoria May, MA 23, are the latest Concordia doctoral researchers to be awarded Vanier Canada Graduate Scholarships.
Bi, a PhD candidate in civil engineering, was recognized for her research into marine oil-spill cleanup techniques. May, a PhD student in the Individualized (INDI) program, was honoured for her innovative work on Indigenous representation in the performing arts.
Launched in 2008 by the Government of Canada, the Vanier scholarship program aims to position Canada as a global centre of excellence in graduate research.
Every year, the program awards up to 166 PhD researchers from across the world Vanier scholarships in the social sciences, humanities, natural sciences, engineering and health. Each scholarship is valued at $50,000 per year for three years.
Reducing the effects of spilled oil on shorelines
Canada has the longest coastline in the world, making it vulnerable to marine oil-spill incidents.
Without prompt and effective response techniques, the oil eventually reaches land after undergoing various physical, chemical and biological processes in the water.
By the time it hits the shoreline, the oil has become highly weathered and viscous, posing significant challenges for its removal.
"The oil reacts and binds very tightly with the rocks and sand on the shoreline," Bi explains.
"In order to clean up the oil, physical and mechanical methods are frequently deployed to the coastal environments, and lots of people and equipment are required to wash the oil off, making the cost of removal very high. Biological treatments involve adding nutrients to affected shorelines to simulate the local bacteria and accelerate the biodegradation process, but this is very slow."
Bi is working with her supervisors Chunjiang An and Catherine Mulligan, faculty in the Department of Building, Civil and Environmental Engineering, to research techniques that will improve the ability to clean up shorelines efficiently after oil spills. She has already helped develop a more efficient and environmentally friendly chemical washing agent to remove oil from shorelines.
Bi is also working on shoreline oiling prevention technique that could be applied on rocky or solid shorelines before the oil reaches them. The proposed method would prevent the oil from combining with the shoreline substrates. That way the oil would remain on the water's surface, making it easier to be collected and recovered.
"I hope my techniques can one day be transformed into practical applications and be put in the Canadian oil-spill response toolbox," Bi says.
Increasing Indigenous representation in dance
May is a professional dancer and choreographer bringing a long and successful career in both Europe and Canada to her graduate studies.
A mother and Red River Métis-Michif citizen of the Manitoba Métis Federation, May's dance training began at the Royal Winnipeg Ballet. Her career included performing with professional ballet and contemporary dance companies for more than 30 years.
May's choreography has been shown at Montreal's Place Des Arts and the National Gallery of Canada in Ottawa. She currently dances for Barbara Diabo (Kanien'keha:ka), Tanya Lukin Linklater (Alutiiq) and Yvonne Chartrand (Métis).
Now, May says she wants to give back to community through her research–creation at Concordia. As part of her doctoral research, she's investigating how to improve accessibility for Indigenous youth in professional performing arts.
"Historically and presently, Indigenous peoples are underrepresented in the performing arts, specifically in dance," says May, whose Concordia supervisor is Métis art history professor Michelle McGeough.
"I want to look at the gap in Indigenous representation in the field of dance, find out why it's there, and to bring change."
She notes that under the potlatch ban, which lasted from 1885 to 1951, it was illegal for Indigenous peoples in Canada to practice their cultural traditions, including dance. The legacy and impacts of the ban remain today.
As part of her research–creation, May hopes to facilitate cultural transmission. She plans to engage in ethical and reciprocal conversations with Indigenous youth, emerging dancers and professional dancers through a series of talking circles and other activities, including spearheading a dance intensive in partnership with Native Montreal for Indigenous youth ages 12-17.
"My research is to give back to community and help build what needs to be built for youth that wish to become dancers," May explains. "How can we get our people dancing our stories on the national performing arts stages all over this country and abroad?"

Learn more about Concordia's School of Graduate Studies and how to apply for Vanier Canada Graduate Scholarships.
---