Recent Concordia postdoc Léuli Eshrāghi becomes the 1st curator of Indigenous arts at the Montreal Museum of Fine Arts
The author, artist and researcher will develop exhibits and acquire new works from across diverse territories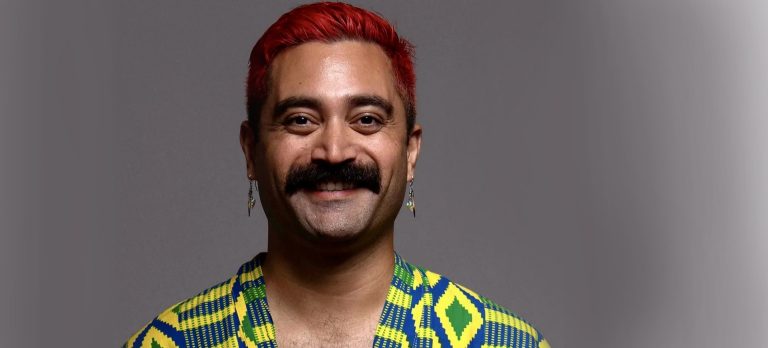 Léuli Eshrāghi, a former Concordia Horizon Postdoctoral Fellow, will be the very first curator of Indigenous arts at the Montreal Museum of Fine Arts (MMFA). In this groundbreaking role, Eshrāghi will be responsible for the development and realization of exhibitions that showcase the exceptional work of Indigenous artists from Quebec, Canada and around the world.
They will also play a pivotal role in acquiring new works from diverse territories and eras, enriching the MMFA's renowned collection.
Eshrāghi is a member of the Sāmoan clans Seumanutafa and Tautua. This appointment adds another layer to their multifaceted background as a Sāmoan, Persian, Cantonese and European author, artist, researcher and curator.
In addition to their curatorial duties, Eshrāghi will conduct crucial research into Indigenous arts and develop cultural mediation activities catering to a wide range of audiences.
"We are at a pivotal moment in our cultural and political trajectories," Eshrāghi said in a statement relayed in the Montreal Gazette. "I will fulfil my new responsibilities to the best of my abilities to improve the experience and understanding of contemporary Indigenous artists' practices and their historical contexts."
Eshrāghi was Horizon Postdoctoral Fellow at Concordia from 2019 to 2021, working with Jason Lewis, professor in design and computational arts, at the Indigenous Futures Research Centre. They hold a PhD in Curatorial Practice from Monash University and a Graduate Certificate in Indigenous Arts Management from the University of Melbourne, both in Australia.
Eshrāghi's bring a wealth of expertise in Indigenous art histories, contemporary practices and institutional development in the Great Ocean and North America regions.
Their works have been featured at such esteemed institutions as the Tate Modern in London, MOMENTA Biennale de l'image in Montreal, the Museum of Contemporary Art Australia in Sydney, the Queensland Art Gallery | Gallery of Modern Art in Brisbane and the Sharjah Biennial in the United Arab Emirates.
Furthermore, they serve as a curatorial advisor to the PHOTO Australia Biennial in Melbourne and the Art Gallery of New South Wales in Sydney.
Eshrāghi's profound passion for Indigenous languages and cultures is reflected in their fluency in Sāmoan, French, English, Spanish and the creoles of Vanuatu and Papua New Guinea.
"I am very grateful to the local and international Indigenous and non-Indigenous communities who we will support and serve through the exhibitions, publications and gatherings to come," Eshrāghi told the Gazette.

Read more about the new curator of Indigenous arts appointment on the Montreal Museum of Fine Arts website.
Learn more about Concordia's Milieux Institute for Arts, Culture and Technology.
---