Concordia researchers are helping preserve Montreal's Chinatown amid increasing gentrification pressures
The university is collaborating with the Jia Foundation on several projects, including a mapping study and a gamified survey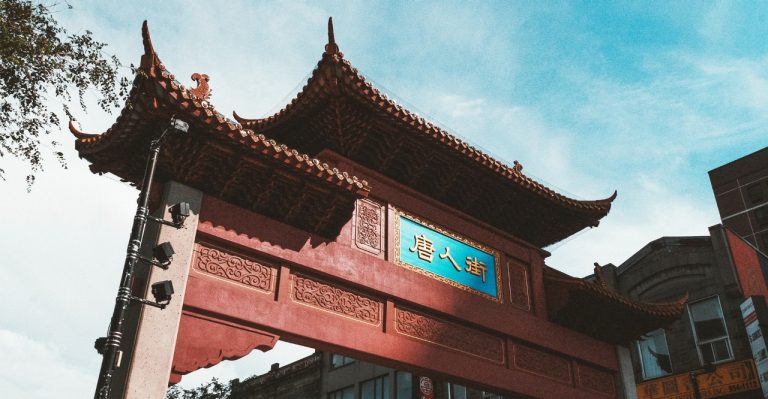 For Montreal's Asian diaspora, Chinatown has long offered a connection to home and community. It's a place where many can have a conversation in their native language, the smells of favourite foods bring back cherished memories and people with similar cultural backgrounds can forge meaningful connections.
However, as the compact downtown neighbourhood faces increasing pressures from gentrification and redevelopment, many fear this urban pocket of Chinese culture will be erased.
In response to these challenges, many Montrealers, including researchers at Concordia, have rallied together to try and protect what's left of Chinatown.
"Chinatowns are touchpoints for the Asian community," says Donny Seto, lecturer with the Department of Geography, Planning and Environment.
"I feel for the second generation. It's a place that those immigrants can actually feel at home and be able to bring back memories but also create new memories with their loved ones."
Concordia's Next-Generation Cities Institute (NGCI) has partnered on several research projects with the Jia Foundation, a non-profit organization with a mandate to foster the cultural heritage of Montreal's Chinatown. The foundation has been fighting to protect Chinatown as more and more luxury condo towers sprout up around its gates.
The projects include a study mapping out the history of Chinatown's buildings and public spaces and a video game to experience different scenarios of proposed developments.
CityPlayer: visualizing the impact of urban redevelopment
NGCI's Christopher Gibbs, senior advisor for urban simulation platform and gamification, and Jiarui Li, BCSc 22, lead gamification programmer, have designed a video game with the help of a group of student interns to help envision and build more livable and sustainable cities.
City dwellers, planners, researchers and decision-makers can use the game, called CityPlayer, to visualize infrastructure changes. These include changing a building's height, adding more bike or car lanes, planting greenery and much more.
"It's Sim City with real science," explains Gibbs.
First, Gibbs and Li and their team create a virtual "twin" of an existing neighbourhood. Next, players can take on the role of a city planner with a bird's-eye view of the area, visualizing potential solutions for urban developments.
Players can also switch to a street view of the area to see what it's like walking in the neighbourhood.
For example, if a CityPlayer participant makes an apartment building taller, they would see that this increases shading and affects the surrounding environment's temperature.
Players can then provide feedback on whether they like the changes or not. The initiative, Gibbs says, is essentially a gamified survey.
"We're trying to use a game format so that people are much more interested to do this rather than filling in an online survey or going to a town hall meeting."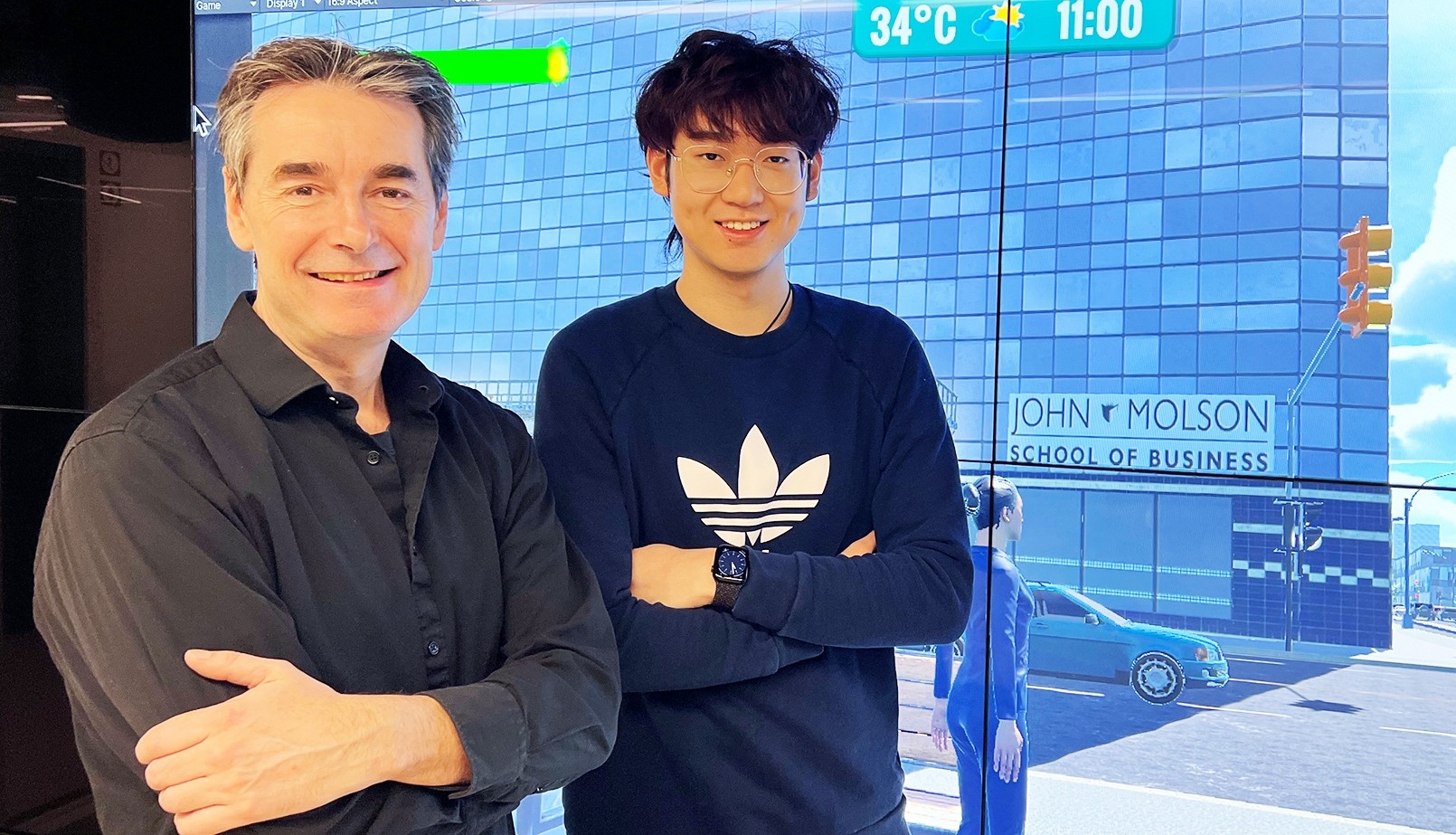 Christopher Gibbs, pictured with Jiarui Li, says of CityPlayer: "It's Sim City with real science."
Although the prototype for the game already exists, this will be the first time the game is used to help citizens raise concerns to city planners.
Many of Chinatown's community members are interested in visualizing what would happen if buildings at risk of being bought by developers are remodelled and made much taller.
"It's about putting power in citizens' hands," Gibbs says. "When community groups are trying to say, 'Hey, these are the negative impacts of a proposed change,' they've got an extra tool to help support their argument."
For Li, this project hits a personal note.
"Chinatown is a place where I can speak my own language and expect people to understand," he says.
"That's why I always go to Chinatown to get my hair cut. The barber there simply knows me better and communicates better."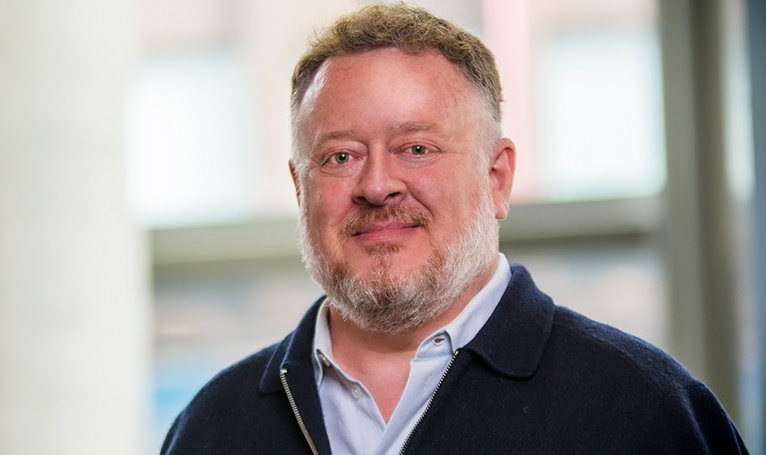 Pierre Gauthier: "I want to make sure Chinatown remains relevant for now and future generations."
Mapping the history of Chinatown's buildings
Pierre Gauthier, associate professor of geography, planning and environment, is working on mapping out Chinatown's buildings. He's focusing on how they've been transformed over time to meet the needs of the community.
"I want to make sure Chinatown remains relevant for now and future generations," he says.
Chinatown, he notes, is anchored at the foot of the Main — also known as Boulevard Saint-Laurent — a street that has served as a traditional limit between English and French Montreal and a corridor of settlement for successive waves of immigration for more than 100 years.
Chinatown's buildings are typical of working-class residential buildings constructed during the 19th century on the Main. What makes them unique, according to Gauthier, are the small modifications that have been made over time.
Gauthier, who is also NGCI's cluster co-director for built and natural environments, is surveying the characteristics of Chinatown's buildings and public spaces, including parks and streets. He's also going to look at the buildings surrounding Chinatown.
"There are small things that we might take for granted but that are really meaningful, and unless you look at it very closely, you won't unveil them and they could be lost," Gauthier says. For example, commercial signage might seem insignificant to some but it testifies to the specific use of place to a specific community.
"I thought I could contribute by translating the community's objective of preserving cultural heritage into spatial and physical terms," Gauthier notes. "I can serve as a bridge between city planners, developers and people who use Chinatown by helping determine what form the development could take without compromising the identity of the place, both in cultural and material terms."
---