Concordia students are developing a video game to assess urban livability and sustainability
Computer science and computational arts interns work with the Next Generation Cities Institute to assist citizens, planners and decision-makers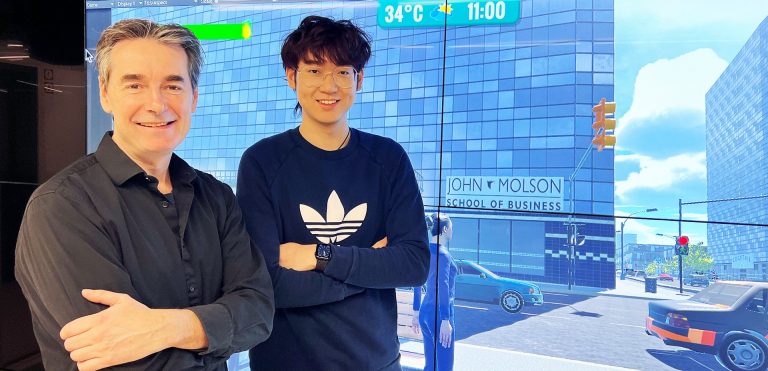 A group of Concordia Institute of Co-operative Education student interns working through the Next-Generation Cities Institute (NGCI) is designing a video game to help envision and build more livable and sustainable cities.
City dwellers, planners, researchers and decision-makers can use the game, called CityPlayer, to visualize potential solutions for urban development in real time. The downloadable prototype is being developed thanks to a generous donation by Montreal-based video-game maker Behaviour Interactive.
"The player plays the role of both a city planner and a citizen and can make fundamental changes to a city at the intersection of livability and sustainability," explains Christopher Gibbs, a long-time video-game industry veteran who is leading the project.
"You can play the role of city planner with a bird's-eye view of the area. You can also spend a day in the life of a busy parent, a student or a retiree and go on missions like running errands, dealing with traffic and meeting a friend in a park."
The interns, all Concordia computer science and computational arts Co-op students, are using Quartier Concordia as the simulation's playground. This includes the sights and sounds of the city, from the traffic noise and the hubbub of people on the street to parks and empty lots.
CityPlayer users can experience the impact of walking by a dark alley full of garbage or a park filled with green spaces and places to meet up, for instance. Each element gives or takes away points for livability.
"The CityPlayer's merger of education and gaming technology in the interests of sustainable development is exactly the kind of collaboration we envisioned when we first approached the Next-Generation Cities Institute," says Marie-Eve Boisvert, Behaviour Interactive's vice-president of communications.
"Behaviour is proud to be a part of this creative, innovative approach to creating more liveable, sustainable neighbourhoods."
'We are turning our gamification imagination into reality'
In the role of a city planner, CityPlayer participants can make apartment buildings taller, for example. This increases population density, which is better for land use but has an impact on the number of cars and people. The planner earns eco-credits to hit sustainability targets based on the Green City Index, which measures cities on about 30 indicators, depending on the region.
CityPlayer can be used in several different ways to enhance the sustainability and livability of a neighbourhood at scale. The game allows for the examination of the impact of decisions, from energy and water use to the addition of green space to the impact of changes to public transit design.
Cities can also use the game to facilitate bottom-up data that goes far beyond what is possible with a survey.
The Concordia team has been programming and co-designing the prototype, from choosing the software, maps and plug-ins to designing the sound effects and the look of the game.
"These students love what they are building, and so they are highly motivated and have beaten my expectations," Gibbs says. "They care about what they are doing and it shows in the results."
Jiarui Li, a graduate of Concordia's Bachelor of Computer Science program, is the project's lead gamification programmer. "We are turning our gamification imagination into reality in a real-world environment where we are applying what we learned in class," he explains.
"Since we're adopting the agile methodology, we can iterate our design ideas based on constant assessments of what we've already built. We are ending up with a game system that is educational and easy for casual audiences to start playing."

In 2022, Concordia made a commitment to offer an experiential learning opportunity to every incoming undergraduate student. Learn more about Experiential Learning at Concordia.
Would you like to learn more about the CityPlayer project and see how you, your students or your city can get involved? If so, contact nextgencities@concordia.ca.
---