Concordia announces its bold climate initiative, PLAN/NET ZERØ
The project will transform the university's campuses into living labs, and serve as a blueprint for cities around the world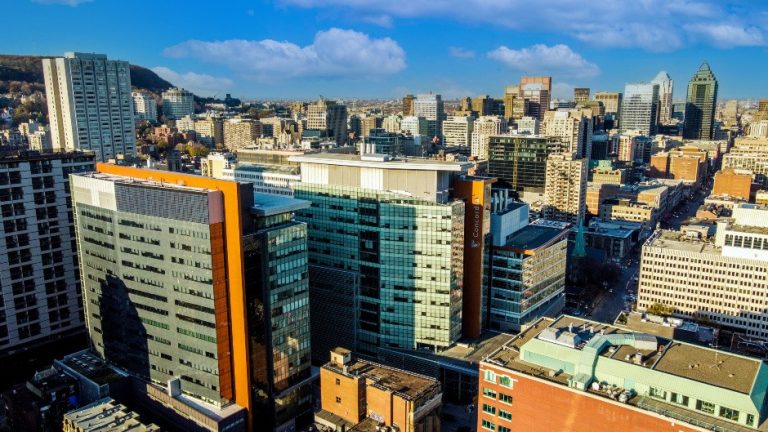 In line with Concordia's pledge to have sustainability guide every aspect of its activities and be a leader in climate action, the university has launched PLAN/NET ZERØ.
The bold project aims to show how large institutions can work with diverse partners to target net-zero emissions now.
As one of Canada's largest and most urban universities, Concordia aims to achieve carbon neutrality before 2040. To do so, it will transform its two Montreal campuses into living labs that reduce energy consumption, optimize heating systems and encourage behavioural change.
"The need for a clean-energy transition to decarbonize our rapidly urbanizing planet is urgent," says Concordia President Graham Carr.
"With 80 buildings across 62 acres on two very different campuses, Concordia offers a unique space to develop and test innovative, integrated, scalable decarbonization solutions that can be blueprints for cities around the world."
Campuses as open living labs
Concordia's campuses — the Sir George Williams Campus in the heart of downtown and the Loyola Campus in residential Notre-Dame-de-Grâce — contain urban greenspaces and examples of almost every phase of Montreal's architectural history over the last 150 years. Its buildings include contemporary LEED-standard research pavilions, 20th-century office towers and low-rise heritage buildings.
Serving 51,000 students and 7,000 faculty and staff, as well as thousands of visitors each day, Concordia's campuses span a huge range of activities, from academic to administrative, sports, research, performance, study, BIXI bike stations, car parks, retail spaces and more.
Ranked 20th in the world by the London-based Times Higher Education Impact rankings for its work on Climate Action and fifth for advancing the UN Sustainable Development Goals related to Sustainable Cities and Communities, Concordia is well positioned to lead a project at the scale of PLAN/NET ZERØ.
The expertise of its Next-Generation Cities Institute and across the university in energy-efficient buildings, smart cities, electrification and renewables, sustainable mobility solutions, energy storage, applied AI, cybersecurity and smart-grid security is recognized globally. Concordia will take advantage of these strengths and its vast network of community, civic, academic and industrial partnerships to transform its campuses into open living labs.
'Unrivalled educational opportunities'
"Climate change is an 'all-of-humanity' challenge. It requires solutions that are actionable and inclusive," says Carr.
"PLAN/NET ZERØ is unique in this respect. Through its living-lab approach, small and medium-sized enterprises, globally recognized enterprises such as Hydro-Québec, financial institutions, community organizations, governments, researchers from other universities and startups from Concordia's District 3 or Montréal's AX-C will all come together to nurture an innovation ecosystem related to energy transformation," he says.
"The plan will also offer students, faculty and staff from Concordia and elsewhere unrivalled opportunities to work alongside experts and stakeholders from these diverse sectors. Through these novel collaborations, PLAN/NET ZERØ will inspire technological innovation, behavioural change and community evolution, and new, future-ready academic training programs for the green economy," Carr adds.
"We want this innovation sandbox to generate an affordable toolbox for everyone. Although PLAN/NET ZERØ is a project at Concordia, it's designed to be a project for Montréal, Quebec and Canada — ultimately showcasing us as a global hub for green-energy solutions."
Better, smarter buildings
The plan will help Concordia lead the clean-energy transition by reducing and optimizing energy use and improving resilience. The university will issue a public call for tenders on April 17 for the selection of a collaborator to help design and build efficient retrofits and integrate smart-building tech and solar power for its pilot project at the Guy-De Maisonneuve Building.
The building combines offices, classrooms, student services, retail spaces and restaurants, and sits above the Guy-Concordia Metro station. Its mixed use makes it a useful test bed for others to learn from.
The university recognizes that to achieve carbon neutrality across its two campuses, it will need to address other operational practices, such as procurement provisioning and transportation. But because buildings account for the largest single source of carbon emissions at Concordia, the university has chosen to tackle this challenge first.
'A beacon for what a next-generation university should be'
PLAN/NET ZERØ aligns with Concordia's commitment to the objectives of the Partenariat Climat Montréal. It is also another big step in the university's history of environmental leadership, which includes delivery of its Sustainability Action Plan. The plan was launched in 2020, inspired by the determination of its students.
"Our goal as a university is not just to be leaders in research and teaching on climate action, but to model institutional behaviour in our operations and collaborations," says Carr. In this regard, the Concordia University Foundation is on track to meet its 2025 targets of 100 per cent sustainable investments, 10 per cent impact investments and ending all investments in the coal, oil and gas sectors.
When set in 2019, these were the most ambitious environmental investment targets among Canadian universities. That same year, Concordia became the first university in Canada to issue a green bond — to fund the construction of its state-of-the-art, LEED Gold-Certified Applied Science Hub, launched in 2020 on the Loyola Campus. Concordia has also been one of Quebec's most energy-efficient universities for decades.
"PLAN/NET ZERØ is an ambitious project that builds on Concordia's momentum to drive green solutions for a healthy planet," says Carr. "By sparking innovation in research, teaching and learning, expanding our networks, modeling social and environmental responsibility and rallying our extended community, we envision PLAN/NET ZERØ as a beacon for what a next-generation university should be."
---