A student initiative is tackling plastic waste on and off campus, one piece at a time
The multidisciplinary Concordia Precious Plastic Project seeks to curtail the environmental impacts of 3D printing and more
An award-winning student-led project at Concordia is confronting the plastic crisis head on.
The Concordia Precious Plastic Project (CP3) is a multidisciplinary initiative bringing together volunteer undergraduate and graduate students from across faculties to find innovative solutions for plastic waste.
Now in its fifth year, the initiative began with a focus on addressing the waste generated by 3D printing. The project has since evolved to include a variety of waste streams, including plastic waste from the Grey Nuns Residence's kitchen.
In the two years back on campus since the COVID-19 lockdown, the group has diverted 60 kilograms of 3D printing waste from campus labs, as well as about 30 kilograms of other waste such as containers from the kitchen, water bottles and detergent and shampoo bottles donated by students.
Some of the diverted materials have even been repurposed to create items like jewellery and coasters.
"Students are working together to tackle such a big issue and make sure that the solution is feasible for everyone," says Sara Ordonselli, a second-year mechanical engineering masters student and CP3 coordinator. "We really believe we're making a difference in our university and in our community."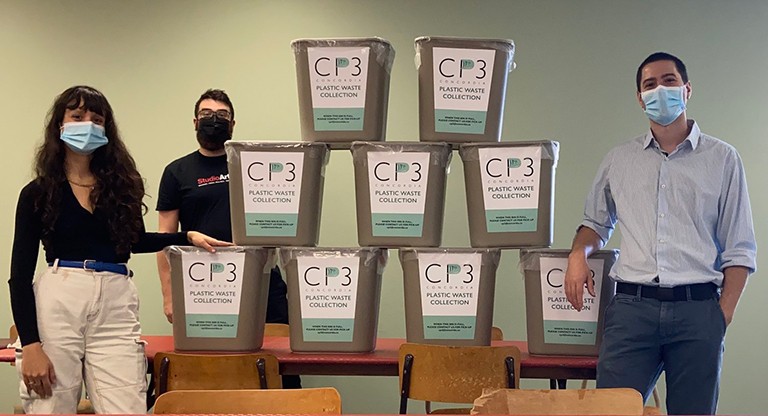 CP3 coordinators Wanda Stamford and Felix Beaudry, and (at back) a member of Studio Artefact.
CP3's funding comes from across Concordia, and Ordonselli reports that the project has supported 10 research and academic projects and held at least 30 events in the last four years. She adds that Concordia is a leader in sustainability and the group's objectives align with the university's Sustainability Action Plan, which includes a zero-waste component.
For Amy Tran, a fourth-year mechanical engineering student and CP3 coordinator, the project's diversity is an asset — its six student coordinators and more than 30 volunteers and collaborators are among the key reasons behind the group's success.
"Plastic recycling itself is a multi-scientific field. We need people from business, we need people who understand how finances work," she notes.
"Most of the students we see bring a different perspective. Engineers are very solutions-based, while a fine arts student might be more process-based and can come up with a fun way to deal with the plastic waste."
Students can get involved by volunteering their time, taking on a leadership role or proposing their own projects for CP3 to support. Assistance could include facilitating research or faculty connections.
In the coming years, the group plans to increase its operational capacity to recycle more plastic, find new ways to expand its collaborations and acquire a dedicated space on campus. It will also continue to empower students to pursue their own waste-reduction initiatives.
CP3 was recently named a co-winner of the first ENLIGHT Global Citizenship Award and invited to attend the awards ceremony in Bordeaux, France, this fall.
Andrew Woodall, Concordia's dean of students, says he is impressed by how CP3 represents the best of student engagement and innovation.
"They have married a thoughtful and important objective with a fun and engaging way to help Concordia and the world meet its sustainability commitments and responsibilities. These students are showing a way forward for all of us."

Visit Concordia's Sustainability Hub to learn more about sustainability on campus.
Read more about Zero Waste Concordia and CP3's process and machinery and how to support the project.
---