Concordia professor's clean-tech solution gets a green light for international commercialization
Maria Elektorowicz's innovative process combines electricity with biology to reduce the environmental impact of wastewater treatment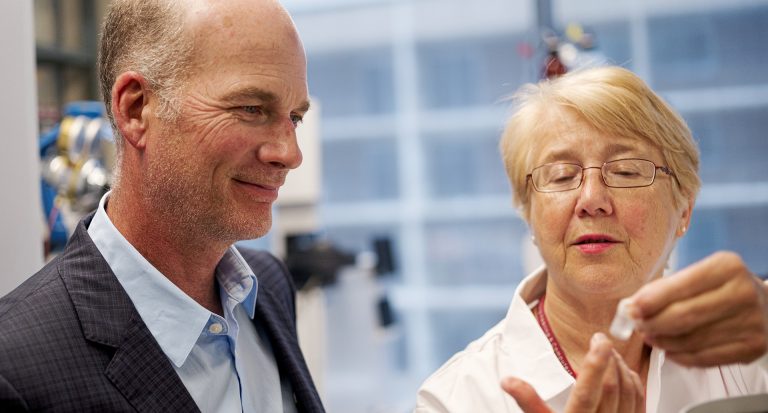 A wastewater treatment technology developed at Concordia was recently certified by the Bureau de normalization du Québec, the province's standardization board for broad commercialization.
The technology is based on a process pioneered by Maria Elektorowicz, professor of environmental engineering. It reduces inefficiencies related to wastewater treatment while eliminating its natural but harmful environmental side effects.
Treated wastewater is a central source of nitrogen and phosphorous. Combined with climate change, these nutrients are accelerating the proliferation of toxic algae blooms that kill marine life in waterways around the world.
Elektorowicz has been researching biological and chemical interactions in the environment and the treatment of sediments, wastewater, biosolids and industrial sludge for three decades.
"Up to now, the only solution for this issue involved adding more processes and chemicals, which increases treatment time and costs, as well as energy and land use," Elektorowicz explains.
Elektorowicz tackled the problem with a group of graduate students, including doctoral student Sharif Ibeid, who co-invented the system. "We investigated the interaction of biological and electrochemical processes, which offered an effective solution that benefits the environment."
The team of Concordia researchers developed the electro-bioreactor process (EBR), a low-amperage, intermittent electrical current that cleans wastewater while greatly reducing nutrient discharge into the environment.
They found that EBR simultaneously destroys organics and phosphorus and reduces both ammoniacal nitrogen and nitrate emissions by 96 to 99 per cent in a single operation unit. For this reason, the technology is unique in the world. It also eliminates twice as much waste sludge usually produced by water treatment processes.
And this isn't the only benefit. During times when regional wastewater treatment facilities reach critical capacity, like during the COVID-19 pandemic, the technology can increase treatment capacity while reducing the time and energy it requires.
'It's the best available technology and the timing is right'
EBR-based technology has several applications besides wastewater treatment. The agri-food and mining sectors, as well as landfills, fish farms and even microbreweries all generate contaminated water requiring similar treatment prior to being released into nature.
Venture capital firm Axelys (previously Aligo), which seeks "pre-seed" innovations based on public research, saw EBR's potential. The firm coordinates financing and supports the transfer of technologies to potential licensees to bring ideas to market.
They helped Elektorowicz access funding from NSERC (Idea to Innovation) to support EBR's pilot installation in L'Assomption, Quebec with the full support of Christian Sauvageau, director of water and sanitation services for the city of l'Assomption.
"Less than half of the projects we analyze are considered novel or suitable for filing a patent and further development. Of these, only one third are a good fit for commercialization," says Catherine Gagnon, vice-president of business development at Axelys. "Maria's team demonstrated that the technology was successful and ready to grow."
Thanks to Axelys, Elektorowicz was introduced to serial entrepreneur Richard Painchaud in 2016. He subsequently launched Kourant Technologies to commercialize EBR-based technology and added Elektorowicz on the company's technical advisory board.
"From my experience, university research doesn't always get this far," says Painchaud, who has launched several clean-tech startups.
"This is the best available technology for several growing problems, and the timing is right to move it forward."
International interest, and new commercial markets
Since launching Kourant, the technology has garnered international interest and was awarded multi-million-dollar funding to expand Elektorowicz's initial installation.
"It's an honour to see my invention achieve this level of growth. By continuing to develop this idea, we can have a tangible impact on our communities and waterways," Elektorowicz says.
"My career has shown me time and time again that asking questions and exploring the art of the possible can be very rewarding."
Following the green light for commercialization, Kourant is pursuing additional capital to expand commercialization in local and international markets. The first full-scale facility, which will open over the next few months, will serve as a technological showcase for this Concordia innovation.
Elektorowicz and Kourant have also been chosen as finalists for an Innovation Award from l'Association pour le développement de la recherche et de l'Innovation du Québec (ADRIQ). This year's Gala takes places on November 17.

Learn more about Concordia's Department of Building, Civil and Environmental Engineering in the Gina Cody School of Engineering.
---