Biology grad credits Concordia for leading to his next big move — pursuing a PhD from Yale University
A wide range of research and mentorship opportunities supported Arun Dayanandan's decision to study restoration ecology at the Ivy League school this fall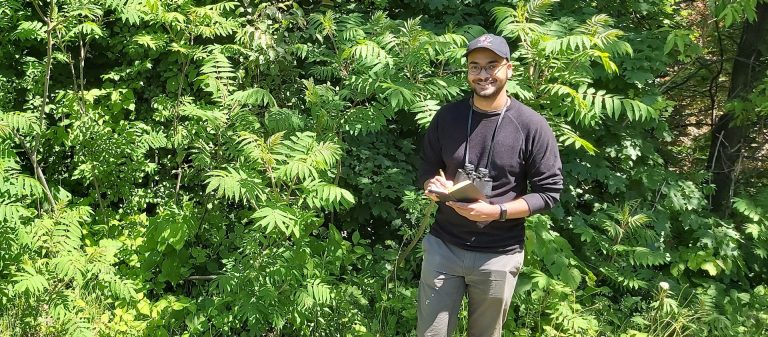 Arun Dayanandan (BSc 17, MSc 22) credits the opportunities he explored at Concordia for helping him decide on the next step of his academic career. He will begin a PhD in restoration ecology at Yale University's School of the Environment in New Haven, Connecticut, this fall.
"One of Concordia's strengths is that it's a next-generation university," Dayanandan says. "It provides a lot of opportunities for interdisciplinary collaboration between the classroom and outside of it, which is something I've been really engaged in from day one."
He says working as a research assistant under Shimon Amir, professor of psychology, during his undergraduate honours biology degree was a key experience for him. At Concordia's Center for Studies in Behavioral Neurobiology, Dayanandan researched circadian rhythms and stress and how they apply to Alzheimer's disease and late-onset dementia patients.
"This was the beginning of thinking about how the work that I was doing as a student was going to apply to broader global issues," he explains.
International climate change and public engagement opportunities
Dayanandan also participated in the Concordia Student Exchange Program and completed a study term at the University of New South Wales in Sydney, Australia. While studying abroad, he began widening his focus from humans to animals, plants and the conservation of Earth's finite natural resources.
He also started to think more about how science is communicated with society.
"That was a fantastic opportunity, and it defined my trajectory even up until now. It's the direction that I'm taking with my work that I'll be starting at Yale," Dayanandan says.
His interest in large-scale environmental issues continued in his undergraduate and graduate work. Alongside Grant Brown, professor of biology, Dayanandan studied the effects of stress on fish and how this can be applied to hatchery systems and fisheries to restore degraded ecosystems.
Participating in Projected Futures, an intensive and experiential summer school offered by the Department of Journalism, contributed to his interest and knowledge in bringing research to the broader public.
He also leveraged Concordia's public engagement opportunities to intern at Future Earth and attended the 46th annual Intergovernmental Panel on Climate Change. "This combination of events propelled me toward looking at ways that I could get engaged in a global community, which is something we have opportunities for at Concordia."
Dayanandan further became engaged in the global sustainability community with a research internship in India under the mentorship of Mohammed Latif Khan at Dr. Hari Singh Gour University in Sagar, and under the mentorship of Aravind Madhyastha at the Ashoka Trust for Research in Ecology and the Environment, a global non-profit organization founded by Concordia honorary degree recipient Kamaljit Bawa (LLD 19).
Mentorship and support as keys to success
During his undergrad years, Dayanandan served as president of Concordia's Biology Student Association. He was later president of the Biology Graduate Student Association and founded and was three-time chair of the Beyond Books alumni panel — a way for undergraduate and graduate students to connect with alums to learn about potential career pathways. He was also a junior fellow at the Loyola Sustainability Research Centre.
Dayanandan emphasizes the support he received over the years as a crucial element to his success. He credits the Faculty of Arts and Science and the mentors he has had — including Brown, Bawa and Concordia President Graham Carr — for helping propel his academic career forward.
"The senior administration at Concordia genuinely want to see students succeed."
To Yale and beyond
Given the different scales and topics of research Dayanandan was exposed to at the university, he felt the best fit for him would be a PhD in restoration ecology at Yale.
"Forests tie many cultures together. I was looking for something international in nature, the way my training was, but also had a strong human component," he notes.
"One of the connecting points we all have is a relationship with forests — a lot of global concerns ultimately tie back to them."
At Yale, Dayanandan will be working on a global project: researching ways to incorporate traditional forest management practices with large-scale tree plantations. He explains that incorporating mixed plant species into forests rather than using monoculture plantations leads to increased ecological sustainability and economic stability and helps meet many of the United Nation's Sustainable Development Goals targets.
After completing his PhD, Dayanandan hopes to build on the work he began at Concordia by becoming a forest ecology professor at a research institution with global reach.

Visit Arun Dayanandan's website to see his videos showcasing plants and wildlife he's encountered, and more.
Learn more about Concordia's Department of Biology.
---