The results are in: Concordia is a top Montreal employer 7 times running
The university's efforts in equity, diversity and inclusion receive praise in the annual competition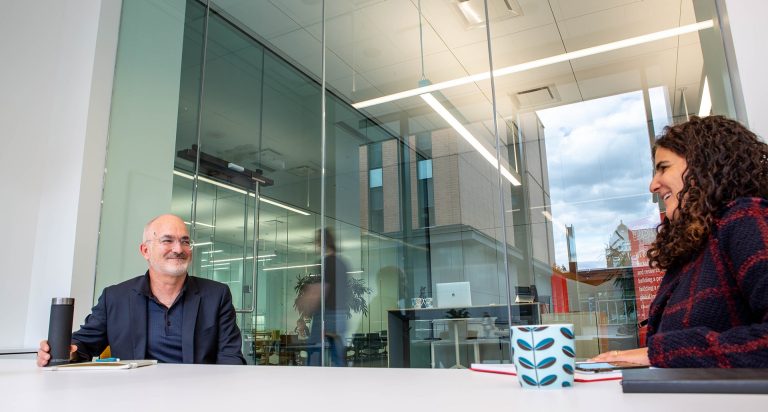 For the seventh consecutive year, Concordia is a top Montreal employer. The university is one of only 14 organizations to make the annual list since 2016.
The competition — organized by the editors of Canada's Top 100 Employers — evaluates applicants based on a set of criteria that includes the physical workplace; health, financial and family benefits; vacation and time off; and employee communications.
So what's driving the university's strong results year after year?
As Concordia President Graham Carr explains, much of the university's success rests on the work faculty and staff carry out every day, including their efforts in the area of equity, diversity and inclusion (EDI).
"We're making it very clear in our recruitment that this commitment to EDI and to accessibility is fundamental for us," Carr says.
"We really believe diversity is an important ingredient in allowing us to be more innovative. If you have different perspectives around the table to talk through issues, you'll end up making better decisions."
Valuing representation
Since joining the Equity Office last fall, Bofta Weldetnsae has seen a genuine effort on the university's part to put in the effort pertaining to EDI and do right by every member of the Concordia community.
"The work happening on campus to create a more equitable experience for students, faculty and staff is transformative," says Weldetnsae, who is an equity advisor. "I'm really proud to be part of this team."
She points out that in 2020 alone Concordia launched the Equity Office and the Black Perspectives Office (BPO), as well as creating the President's Task Force on Anti-Black Racism.
In addition, she notes that the Equity Office's work is informed by the efforts of other leaders such as Indigenous Directions, the Access Centre for Students with Disabilities, the Centre for Gender Advocacy and the BPO.
"The fact that EDI is being formalized in a very intentional way is important because this sort of institutional backing holds a lot of weight," Weldetnsae says.
Carr agrees and emphasizes that initiatives like the EDI Action Plan aren't just about ticking off boxes.
"It's about valuing that representation in a way that's going to make us a better organization and a more innovative place to work," he says.

Read the full Montreal's Top Employers feature about Concordia online.
---