It's all about love, sex and (e)robots for Concordia Public Scholar Simon Dubé
The doctoral candidate in psychology is studying the future of human sexuality and new erotic technologies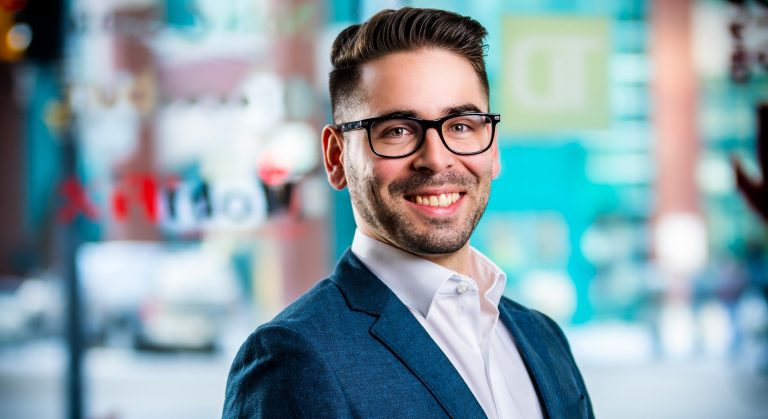 No, we're not living in a Blade Runner-like world with replicant partners — yet. But Concordia Public Scholar Simon Dubé is helping society head in a decidedly futuristic direction.
The PhD candidate in psychology is researching what some might consider the final frontier: sextech, space sexology and erobotics.
In other words, his focus is on how humans are interacting erotically with machines and new technologies, including robots and virtual partners, and what the potential benefits and applications might be.
Dubé is a student representative of the International Academy of Sex Research and a general co-chair of the International Congress on Love and Sex with Robots.
His research is supported by the Fonds de recherche du Québec – Santé (FRQS).
'The future of erobots includes novel, ever more realistic, interactive and immersive erotic experiences with and through technology'
You must get a lot of raised eyebrows when you tell people about your research. How do people react?
Simon Dubé: Aside from those who pray for my sinful soul's redemption, I typically get three main reactions: surprise, laughter and curiosity. In all cases, it usually leads to an interesting discussion.
How does a doctoral student in psychology become involved in studying sex with robots?
SD: I began by exploring the development and psychophysiology of sexual preferences, and I realized that emerging technologies — such as artificial intelligence (AI), virtual reality and robotics — are occupying an ever-increasing place in our intimate spheres and affecting who and what we could erotically connect to. This led me down the rabbit-hole question: How do new erotic technologies influence our intimacy and sexuality?
Are there any moral conundrums involved with studying robot-human interactions? Do people view this as something perverse or morally questionable?
SD: I think the answer is in your question. Sexuality and technology are filled with taboos and fears. So when new phenomena related to our eroticism emerge, it always generates strong reactions. This includes negative reactions from people with traditionally conservative sexual views who may think that exploring erobotics — the study of human-machine erotic interaction and co-evolution — is wrong.
But sexuality is central to human life, and understanding its relationships with technology is primordial if we aim to favour human well-being and harmoniously integrate new erotic systems into our sexual and intimate lives.
Part of your research focuses on long-term space exploration and/or settlement. Are you primarily interested in the psychology of human/non-human interaction, or is there a more practical application for your work?
SD: My primary doctoral work focuses on erobotics. Specifically, I examine the motivation to engage erotically with machines, and the social — for example, stigma — and psychophysiological factors that may influence the motivation to have sex or intimate relationships with robots — for example, personality and response to a state of sexual arousal.
In recent years, I have also developed a research axis on space sexology. My colleagues and I explore how we can integrate sex research into space programs and exploration as well as design solutions to facilitate safe intimacy and sexuality during space travel — for example, research methods, training programs and sextech products.
What does the future of erobots look like? Will we eventually accept it as completely normal?
SD: I think the future of erobots includes novel, ever more realistic, interactive and immersive erotic experiences with and through technology, which will allow us to discover the true depth of human eroticism. It also includes an ever-expanding array of possible applications in research, education, therapy and pleasure.
While the elaboration of sex toys goes back to the dawn of civilization, are there any other examples of technological aids to human sexuality that people might not be aware of?
SD: There are so many new erotic products coming out each day that it is very difficult to keep track of all the ways that we can now achieve pleasure and build intimate connections. But if people are interested in spicing things up or simply exploring new — or perhaps more adapted — ways of enjoying themselves and/or their partners, I think they should look into recent innovations in connected and/or AI-powered sex toys. These can sometimes be used remotely or in tandem with games and virtual-reality pornography.
Can a human fall in love with a robot?
SD: Yes, and some people already have.
Join Simon Dubé on December 6 for his online event Bringing Sex to the Final Frontier: A Panel Discussion on Space Sexology.
Could you be Concordia's next Public Scholar? PhD students can now register for the new, qualifying communications training by January 26, 2022.
Find out more about Concordia's Department of Psychology.
---