Concordia's Next-Generation Cities Institute's new space invites collaboration, discovery and innovation
The specially designed office is also home to the Canada Excellence Research Chair in Smart, Sustainable and Resilient Communities and Cities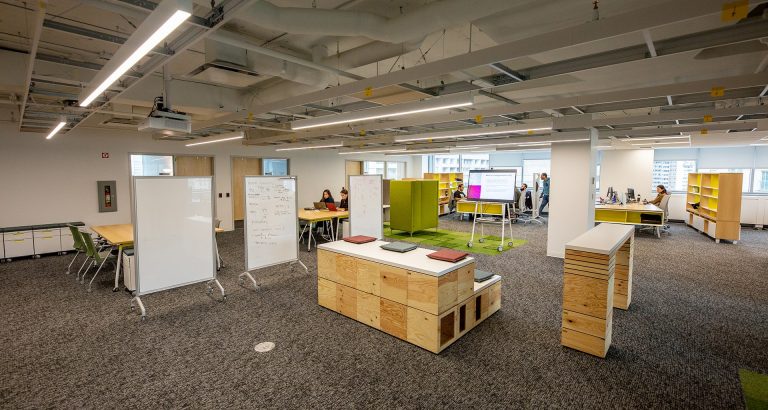 "We believe that Next-Generation Cities spaces are where dedicated urban research will thrive," says Ivona Bossert, design manager and knowledge mobilization advisor at Concordia's Next-Generation Cities Institute (NGCI).
The institute team aims to shape the future of sustainable cities as resilient places to thrive and grow — and they hope their new space will be the same.
The NGCI, which will celebrate its one-year anniversary on November 26, has moved into new, specially designed spaces on the 14th floor of the ER Building, which is home to the Canada Excellence Research Chair in Smart, Sustainable and Resilient Communities and Cities (CERC).
The space's interior concept was Bossert's brainchild, with support from architects and designers at Concordia Facilities Management.
"How work environments are designed directly influences creativity, productivity and the quality of interpersonal relationships. Stimulating spaces help to facilitate positive, more productive collaboration and learning experiences," she says.
"Next-Generation Cities research spaces reflect the openness and holistic approach of its users."
Isabelle Roy, architect and manager of renovation projects for Facilities Management, helped plan and direct work throughout the ER Building. Collaborating with the NGCI meant experimenting with new approaches and materials.
"They have an in-depth understanding of what the future will look like, and we've been able to integrate some of these elements and ideas into the space itself," Roy says.
Serendipity
Bossert explains that in the NGCI/CERC space serendipity supports creativity and spontaneous human interactions. Yet that serendipity can't occur on its own — adding serendipity through physical design can increase seemingly random social interactions that can lead to more frequent insights.
"Increased social interaction leads to more serendipity, and serendipity leads to more discoveries," she says. "Discoveries become insights, and insights are the foundation for innovation."
Flexibility
Bossert says that productive spaces can occur anywhere, and the NGCI/CERC office is designed to increase both formal and informal interactions.
The open space is a multifunctional area and, like the city, is divided into different quarters, represented by easily accessible group workstations. Spaces are selected according to the need, allowing people to use them in different ways.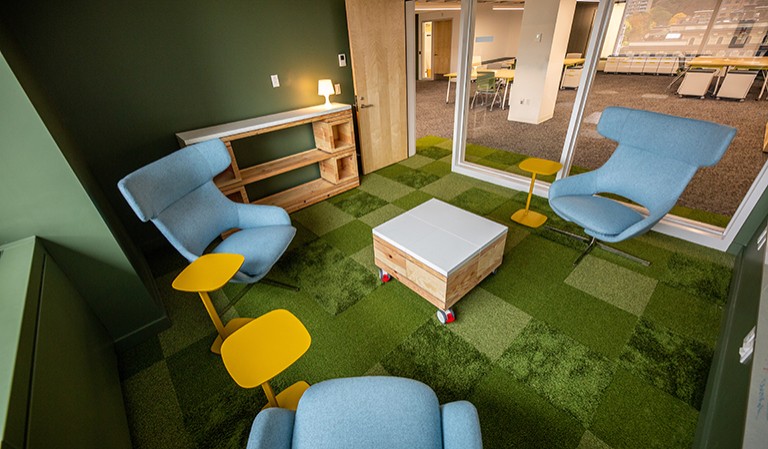 Well-being
"Comfort is not a quantifiable phenomenon, but we know that when people are uncomfortable, they are distracted," Bossert notes.
"Space layout, temperature, lighting, furnishings, ergonomics, colours and materials all play a role in making a person feel comfortable."
The NGCI/CERC office includes ergonomically designed furniture and work areas to enhance user focus.
Biophilia
Bossert notes that sunlight and window access also enhance productivity and mental function through direct visual contact with nature. The 14th-floor offices were designed to provide as much daylight as possible.
"Research shows that a simulated natural environment facilitates stress reduction, increases productivity and enhances well-being," she says.
Applied finishes, grass-like carpets and applied colours throughout the open space and conference room are also meant to conjure a connection with nature.
Innovation
Bossert says the NGCI/CERC space's innovative human-centric lighting is designed to promote creative thinking and concentration, with a focus on natural light and the circadian rhythm. She says this approach addresses how lighting affects the well-being, performance and comfort of occupants in the built environment.
According to Roy, it's the first time that a lighting system that uses tunable white LEDs to render daylight colours and support employees' circadian rhythm in zones with low and no daylight access has been installed in North America.
"It's a great example of how we work to customize physical spaces to incorporate research activities," she says.
The space also includes a Visualization Wall designed to stimulate urban research, and an IoT (internet of things) Lab in the Research Kitchen to analyze how to optimize each component's energy use based on algorithms for the various users.
Work culture
"Guided by the principles of environmental psychology in design, we believe that how spaces are designed affects the way users think and act," Bossert says.
"Pleasantly designed spaces foster productivity, increase task engagement and provide a strong sense of belonging."
She adds that the design of the space supports the institute's values.
"Our goal is to attract future catalysts for change — open-minded, culturally aware young people that are conscious of social and environmental sustainability issues and are willing to step out of their comfort zones and explore opportunities for innovation in interdisciplinary projects," Bossert says.
Ursula Eicker, NGCI's co-director and the Canada Excellence Research Chair in Smart, Sustainable and Resilient Communities and Cities, agrees that the new open space invites collaboration.
"It is great to walk in from the elevators and already see people working on urban transformation in the conference space," she says.
"We hope that the 14th floor will become a vibrant hub of activities around all aspects of urban studies and next-generation cities."
Learn more about Concordia's Next-Generation Cities Institute.
---